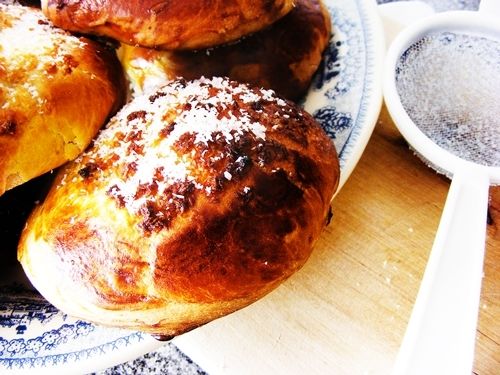 'Pão de Deus' can literraly be translated as "God's Bread". It's funny because it immediatly reminds me of a portuguese popular expression we have that is 'comer o pão que o diabo amassou' (eating the bread that the devil kneaded) which has the meaning of struggling against problems so I guess we could conclude eating God's bread might be a good thing according to portuguese wisdom! haha
This is a kind of brioche with coconut topping toasted in the oven. It's a national delicacy so you can find it a bakery anywhere in Portugal from North to South. The most popular way to eat it is with a slice of cheese or ham (or both, just like I like it!) and I personally think you can enjoy it anytime of the day but I'd suggest having it for breakfast!
Acho o nome 'pão de Deus' engraçado porque me lembra imediatamente de uma expressão portuguesa popular que é 'comer o pão que o diabo amassou', a qual significa passar dificuldades pelo que se poderia concluir que comer o pão de Deus deve ser uma coisa boa de acordo com a sabedora portuguesa! haha
Este é um tipo de brioche com uma cobertura de coco tostado no forno. É uma especialidade nacionalidade por isso podem encontrá-los em qualquer padaria em Portugal de Norte a Sul. A forma mais popular de os comer é com uma fatia de queijo ou de fiambre (ou ambas, bem como eu gosto!) e pessoalmente penso que podem comê-los em qualquer altura do dia mas recomendo para o pequeno-almoço!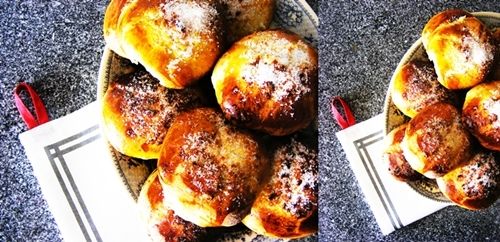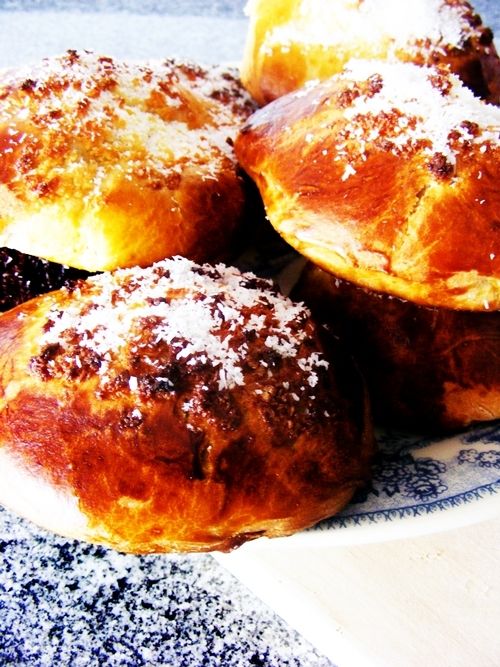 Ingredients
Ingredientes
for the dough:
para a massa:
100g milk

100g leite
150g water

150g água
100g sugar

100g açúcar
100g butter

100g manteiga
25g active dry yeast

25g fermento de padeiro
1 pinch of salt

1 pitada de sal
500g 65 type-flour

500g farinha tipo 65
(1 egg to brush the rolls)

(1 ovo para pincelar os pães)
for the topping:
para a cobertura:
50g grated coconut

50g coco ralado
30g sugar

30g açúcar
2 soup spoons of milk

2 colheres de sopa de leite
Pour flour on the table and make a hole in the center. In the hole put the baker's yeast and the milk and mash with a little flour, making a ball. Allow the dough to rise.
Remove the ball, pour the butter, water and sugar, adding a pinch of salt. Knead everything well by hand until the dough is elastic. Sprinkle with flour if necessary so that the dough is soft.
Place the dough in a bowl, cover with a cloth and place in a temperate place until the dough doubles in volume.
Once the dough has leavened, form balls with it. In the middle of each, and with the aid of a knife, cross-cut the top. Brush with a beaten egg.
Aside mix the coconut, sugar and milk and place a portion of the preparation on top of each ball of dough. Allow to rise for approximately 30 minutes.
Take it to oven preheated to 180°C for about 20 minutes. Remove from oven and sprinkle with coconut.
Coloque a farinha sobre a mesa e faça um buraco no centro. No buraco coloque o fermento e amasse com o leite e um pouco de farinha, fazendo uma bola. Deixe levedar.
Retire a bola de fermento, deite a manteiga, a água e o açúcar, adicionando uma pitada de sal. Amasse tudo muito bem à mão até que a massa fique elástica. Polvilhe com farinha caso necessário para que a massa fique macia e mole.
Coloque a massa num alguidar, tape com um pano e coloque num local temperado até a massa dobrar de volume.
Assim que a massa tiver levedado, forme bolas com a mesma. No meio de cada uma, e com a ajuda de uma faca, faça um corte em cruz na parte superior. Pincele com o ovo batido.
À parte misture o coco, o açúcar e o leite e coloque uma porção do preparado em cima de cada bola de massa. Deixe levedar durante cerca de 30 minutos.
Leve ao forno pré-aquecido a 180ºC durante cerca de 20 minutos. Retire do forno e polvilhe com coco ralado.
Have fun baking and let me know how you find this!
Divirtam-se a cozinhar e digam-me o que acharam!