Friday Favourites
Friday Favourites #16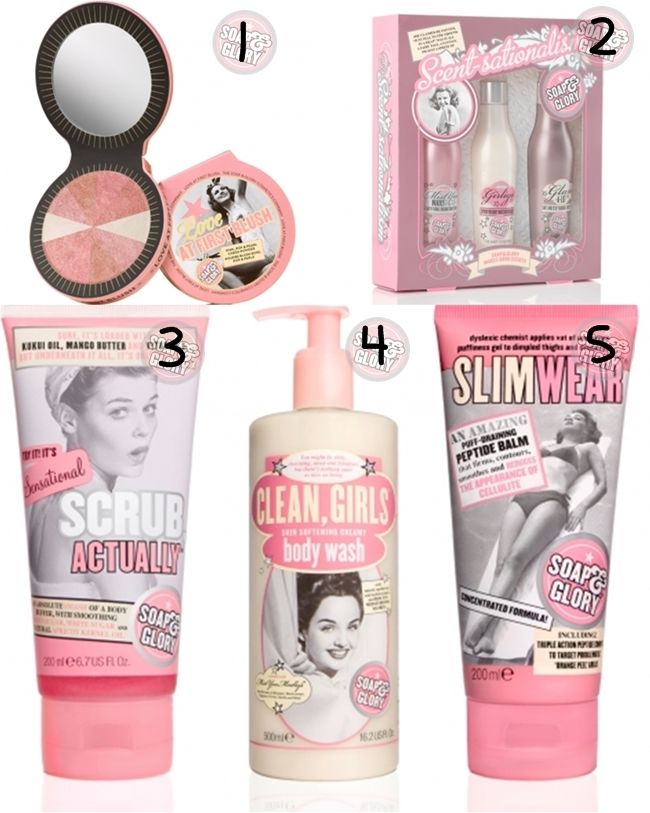 | 1. Love at first blush| 2. Scent-sationalism| 3. Scrub, actually| 4. Clean, girls| 5. Slimwear|
I am gonna tell you guys a little secret... I am a big fan of beauty brands such as Benefit and Too Faced not only because they have great products but also because of the fantastic design of their products! I have always loved (and always will!) anything retro/vintage inspired and having that on my beauty products feels way too awesome. Of course, when I found out Soap and Glory this week I almost had an heart attack! I swear my first thought was "where the hell have you been my whole life?" and I immediatly sent my sister (who's also a big fan of vintage inspired things) an e-mail to show her this brand! I think my e-mail might have sounded like I was about the die but my sister didn't seem to care as she immedatly replied to me with a lot of "I love it" followed with huge compliments to the brand. Unfortunately, it seems it isn't for sale in Portugal (big time crying!). I pinky swear that whenever I land in a country that sells this brand I'll bring my travel bag exactly with the allowed 20kg filled only with their products. It's so dreamy!
Vou-vos contar um pequeno segredo... eu sou uma grande fã de marcas de beleza tais como a Benefit e a Too Faced não só porque eles têm produtos incríveis mas também pelo fantástico design dos seus produtos! Sempre adorei (e sempre irei adorar!) qualquer coisa inspirada em retro/vintage e ter isso nos meus produtos de beleza é demasiado fantástico. É claro, quando descobri a Soap and Glory esta semana quase tive um ataque cardíaco! Juro que o meu primeiro pensamento foi "onde raio estiveste tu toda a minha vida?" e imediatamente enviei à minha irmã (que também é uma grande fã de coisas inspiradas em vintage) um e-mail para lhe mostrar esta marca! Acho que o meu e-mail soou um pouco como se eu estivesse a morrer mas a minha irmã não pareceu se importar já que imediatamente me respondeu como muitos "adoro" seguidos de grandes elogios à marca. Infelizmente, parece que não está à venda em Portugal (muito tempo passado a chorar!). Juro a pés juntos que quando aterrar num país que venda esta marca vou trazer a minha mala de viagem carregada exactamente com os 20kg permitidos cheia só com os seus produtos. São de sonho!
Let's just keep the talk where I remind you of how much I love anything pencil-related and say just how incredible this is?? A pencil shavings cuff and a pencil shavings collar? Please mail it directly at my door and I'll be the happiest person in the world. This is way too awesome!
Podemos passar à frente a conversa em que vos relembro o quanto gosto de tudo o que esteja relacionado com lápis e dizer o quão incrível isto é? Uma pulseira de aparas de lápis e uma gola de aparas de lápis? Por favor enviem directamente para a minha porta e eu serei a pessoa mais feliz do mundo. Isto é demasiado fantástico!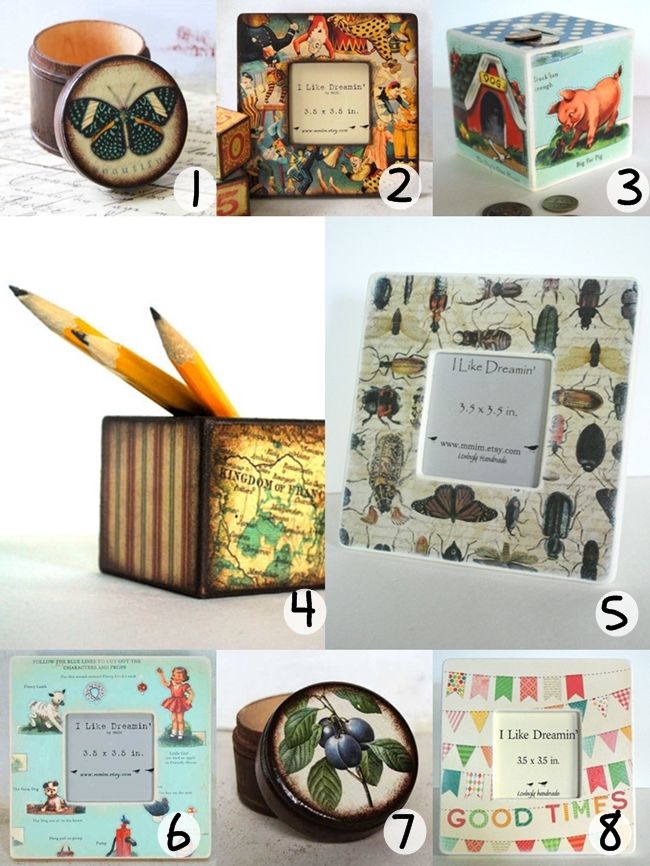 | 1. BEAUTIFUL Butterfly Large Box | 2. Le Cirque Picture Frame| 3. Country Farm Wood Bank| 4. World Map Pencil Box| 5. A Bugs Life Picture Frame| 6. Paper Doll Frame| 7. Plum Powder Box| 8. Good Times Picture Frame|
This week I just found out another incredible Etsy shop (one of those you just feel like adding everything to your favourites!). The piece that first caught my eye was no. 5 ( you know me, insect prints are an obsession!) and then I started watching the whole shop and I knew I was in love with it! There's no words to describe how creative and beautiful everything is... from pill boxes to frames, wood banks and... pencil boxes!! I truly advise (I mean strongly recommend) you to pay a visit to this shop! I'm blown away!
Esta semana descobri outra loja fantástica no Etsy (uma daquelas em que só apetece adicionar tudo aos favoritos!). A peça que primeiro me chamou a atenção foi a nº5 (vocês conhecem-me, padrões com insectos são uma obsessão!) e depois comecei a ver toda a loja e soube que me tinha apaixonado! Não há palavras para descrever quão criativo e original tudo é... desde caixas para comprimidos a molduras, mealheiros de madeiras e... caixas para lápis!! Eu verdadeiramente aconselho-vos (quero dizer fortemente recomendo) a visitarem esta loja! Eu estou fascinada!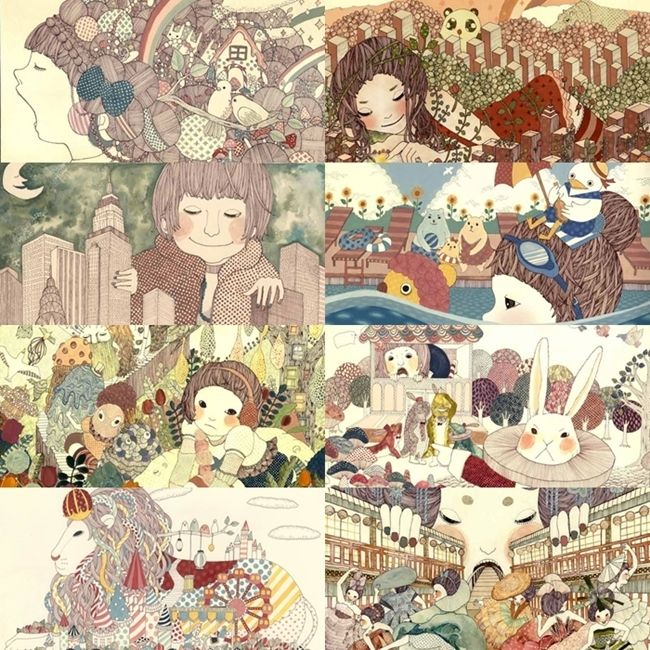 I am loving the beautiful work of Yoko Furusho! I found it by accident but I really like how colourful and different it is! Everything seems to come out of a fantasy or children stories book and I absolutely love it!
Estou a adorar o trabalho de Yoko Furusho! Descobri-o por acidente mas gosto mesmo do quão colorido e diferente é! Tudo parece ter saído de um livro de fantasia ou de histórias para crianças e eu absolutamente adoro-o!
P.S. - Have you noticed I added tabs on the top of the blog? Now you can find my most popular features quite easily! I also updated the sponsor page so if you'd like to be promoted on Drawing Dreaming, go take a peak!
Já repararam que adicionei separadores no top do blog? Agora podem encontrar as minhas features mais populares facilmente! Também actualizei a página de sponsors por isso se gostavam de ser promovidos no Drawing Dreaming, vão espreitar!