Beleza
Review: ITAY 8-Stacks Shimmers
I recently got by mail a make-up treat, the perfect gift for anyone who loves make-up and specially craves for eye make-up like me: a 8-Stacks Shimmers from Itay Mineral Cosmetics.
Recentemente recebi no correio um mimo de maquilhagem, a prenda perfeita para todos aqueles que adoram maquilhagem e que, tal como eu, anseiam especialmente por maquilhagem para olhos: um 8-Stacks Shimmers da Itay Mineral Cosmetics.
Disclosure: This product has been sent to me for review purposes only. I have not received any compensation, everything stated is my own opinion.
Divulgação: Este produto foi-me enviado para propósitos de review apenas. Não recebi qualquer compensação, tudo o que aqui é afirmado é a minha opinião pessoal.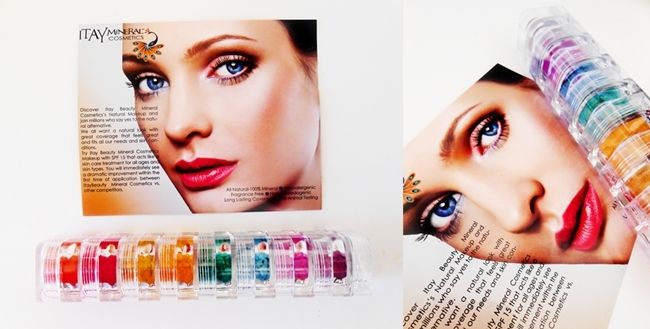 What is it?
O que é?
Itay Mineral Cosmetics is based on the concept that every woman is born beautiful. Rather than covering your natural beauty with harsh chemicals, this brand proposes to enhance it - 'because each and every woman deserves to fell like a goddess'.
A Itay Mineral Cosmetics é baseada no conceito de que todas as mulheres nascem bonitas. Em vez de cobrir a tua beleza natural com químicos severos, esta marca propõe-se a realçá-la - 'porque todas as mulheres merecem sentir-se deusas'.
ITAY Mineral Eye Shimmers are the 100% all-natural mineral makeup and do not contain preservatives, oils, talc, or dyes - contaminants that are harmful to your skin.
I absolutely love natural mineral make-up as it doesn't harm your skin as much as chemical cosmetics. I was also really happy when I noticed Itay doesn't test on animals as I consider that a priority when it comes to all beauty/make-up products I use.
Os ITAY Mineral Eye Shimmers são maquilhagem mineral 100% natural que não contêm preservantes, óleos, talco ou corantes - contaminantes que são severos para a tua pele.
Eu adoro maquilhagem mineral natural já que não prejudica tanto a tua pele como cosméticos químicos. Fiquei também muito feliz quando reparei que a Itay não testa em animais já que considero isso uma prioridade no que toda a todos os produtos de beleza/maquilhagem que uso.
Packaging & Shipping
Embalagem & Envio
The 8-Stacks came perfectly wrapped in plastic - the stacks came protected and when I unwrapped it, everything was in place and no make-up was wasted.
I personally never had a stack of eye make-up but I just loved the concept at first sight: you just need to twist each section to 'unscrew' it from the stack. I think this will definitely be from now on the only eye make-up I will carry when traveling! It's really safe (no more leaving your palette falling on the floor and getting eye shadow all over the place) and it saves a lot of space!
When it comes to shipping, you may want to know that, despite the fact that I live in Portugal and Itay is a USA-based brand, it only took 3 working days (yes, you read it right ,three!!) for the package to arrive to me! Couldn't be faster!
Os 8-Stacks vinham perfeitamente embrulhados em plástico - vieram protegidos e quando os desembrulhei, tudo estava no sítio e nenhuma maquilhagem foi desperdiçada.
Pessoalmente nunca tinha tido uma pilha de maquilhagem para olhos mas adorei o conceito à primeira vista: só precisam girar cada secção para 'desenroscá-la' da pilha. Acho que daqui para a frente esta será a única maquilhagem para olhos que irei levar comigo quando viajar! É muito segura (nunca mais deixarás cair paletas no chão e ficar com sombra para olhos espalhada por todo o lado) e poupa muito espaço!
Quanto ao envio, podem querer saber que, apesar do facto de eu viver em Portugal e a Itay ser uma marca baseada nos EUA, só demorou 3 dias úteis (sim, leram bem, três!!) para a embalagem cá chegar! Não podia ser mais rápido!

Quantity/Price
Quantidade/Preço
Each stack of 8 colours costs 54.95$ and it weights 14g (each stack contains 1.75g). I find it a quite reasonable price
(plus, you can buy them here for 34.95$)
as you actually get 8 different colours. Also, this may not seem too much but, believe me, it is. When using mineral eye shadow you just need a tiny bit of powder in your brush to fullfil your entire eyelid. I have been using this a lot and you can see on the pictures just as it looks, almost untouched. I truly believe this will be one of those make-up products I own for years and years even though I use them pretty much everyday. Believe me, this is worth the price!
Cada pilha de 8 cores custa 54.95$ e pesa 14g (cada secção contém 1.75g). Eu considero ser um preço razoável
(além disso, podem comprá-los aqui por 34.95$)
já que ficam com 8 cores diferentes. Além disso, pode não parecer muito mas, acreditem em mim, é. Quando se usa sombra de olhos mineral, só precisam de um bocadinho muito pequeno de pó no vosso pincel para preencher a pálpebra toda. Tenho usado isto imenso e podem ver nas fotos como parece, quase intocado. Acredito verdadeiramente que este vai ser um daqueles produtos de maquilhagem que tenho por anos e anos apesar de os usar basicamente todos os dias. Acreditem em mim, vale o preço!
The 8-Stacks Shimmers are available in five different versions (including colour palettes for each eye colour - I can't wait to try the one for brown eyes!). I have picked Caribbean Samba as I wanted a wider range of colours to achieve a bright look. On the picture to your right you can see the swatches in my hand. All the colours are bright and have a great coverage, my favourites being blue (3rd one) and pink (7th one).
Os 8-Stacks Shimmers estão disponíveis em cinco versões diferentes (incluindo paletas para cada cor de olhos - mal posso esperar para experimentar a paleta para olhos castanhos!). Eu escolhi a Caribbean Samba já que queria uma maior variedade de cores para alcançar um look mais luminoso. Na foto à vossa direita podem ver as amostras na minha mão. Todas as cores são brilhantes e têm uma cobertura muito boa, as minhas preferidas são o azul (3ª) e rosa (7ª).

Communication
Comunicação
I only have to say good things about Itay. They allowed me to pick an item of my choice from their shop and my contact, Rummy, was so kind and polite, always available to answer my questions. Great customer service!
Só tenho boas coisas a dizer da Itay. Deixaram-me escolher um item à minha escolha da loja deles e o meu contacto, Rummy, foi sempre muito simpática e bem-educada, sempre disponível para responder às minhas questões. Excelente serviço ao cliente!
An example of how I used the 8-Stacks Shimmers (you can see more photos here)
Um exemplo de como usei os 8-Stacks Shimmers (podem ver mais fotos aqui)
Pros:
- wide variety of colours - you can pick from brighter colours (like I did) to more natural tones and even find the best collection for your eye colour;
- 100% natural mineral make-up, non tested on animals;
- long lasting coverage - I usually finish my eye make-up with a spray to make eye shadow stay in its place but I didn't need it! The colours worked beautifully on my skin and they last for a long time;
- incredibly fast shipping.
Prós:
- grande variedade de cores - podem escolher desde cores mais luminosas (como eu escolhi) a cores mais naturais e até encontrar a melhor colecção para a tua cor de olhos;
- maquilhagem mineral 100% natural, não testada em animais;
- cobertura de longo termo - eu normalmente acabo a minha maquilhagem nos olhos com um spray para que a sombra de olhos permaneça mas não precisei dele! As cores ficaram lindíssimas na minha pele e duram muito tempo;
- envio incrivelmente rápido.
I personally couldn't find any cons! This is currently my favourite eye make-up, I strongly recommend it to all make-up lovers!
Pessoalmente não encontrei quaisquer contras! Esta é de momento a minha maquilhagem para olhos preferida, recomendo-a vivamente a todos os que gostem de maquilhagem!