Fashion
Review: My Name Necklace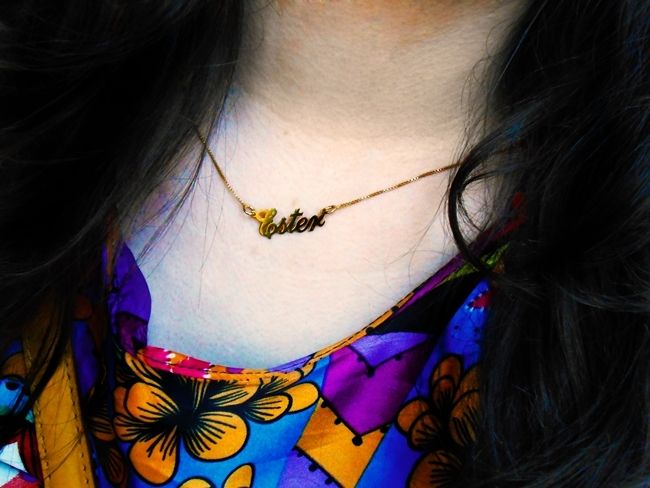 Have you noticed the custom name necklace I was wearing on this outfit post? It was sent to me by My Name Necklace and I couldn't love it more! I always wanted a necklace with my name so I was thrilled to receive this one! If you too would like to have your own name necklace, you may want to read my two cents on it!
Repararam no colar com nome personalizado que eu usei neste outfit post? Foi-me enviado pela My Name Necklace e eu não podia adorá-lo mais! Sempre quis um colar com o meu nome por isso fiquei super entusiasmada quando recebi este! Se também gostavam de ter o vosso próprio colar com nome, talvez queiram ler a minha opinião!
Disclosure: This product has been sent to me for review purposes only. I have not received any compensation, everything stated is my own opinion.
Divulgação: Este produto foi-me enviado para propósitos de review apenas. Não recebi qualquer compensação, tudo o que aqui é afirmado é a minha opinião pessoal.
Packaging & Shipping

Embrulho & Envio
The first thing I've noticed when I got this package was how beautiful the box containing the necklace is. Not only it brightens up your day to have a necklace with your name but also having it on such a pretty box is an amazing bonus. If you're buying a necklace to gift someone else, you don't need to think of wrapping it or finding a package that is pretty enough to give to a friend, this box is amazing! If you're buying from My Name Necklace, you may want to know that - despite the fact we're talking about custom made items -, it only took 6 work days from the day I've ordered the necklace until it reached my doorstep (yes, you read it right, I've ordered it and 6 days later I already had it!), I don't think one could ask for a quicker service.
A primeira coisa em que reparei quando recebi este pacote foi no quão bonita é a caixinha que contém o colar. Não só alegra o teu dia teres um colar com o teu nome como também tê-lo numa caixa tão bonita é um bónus fantástico. Se estiverem a comprar um colar de prenda para alguém, não precisam pensar em embrulhos ou em encontrar um pacote que seja bonito o suficiente para dar a um amigo, esta caixa é fantástica! Se comprarem na My Name Necklace, talvez queiram saber que - apesar do facto de estarmos a falar de itens personalizados - só demorou 6 dias úteis desde o dia em que eu encomendei este colar até ao dia em que chegou à minha porta (sim, leram bem, eu encomendei-o e 6 dias depois já o tinha!), não penso que se possa pedir por um serviço mais rápido.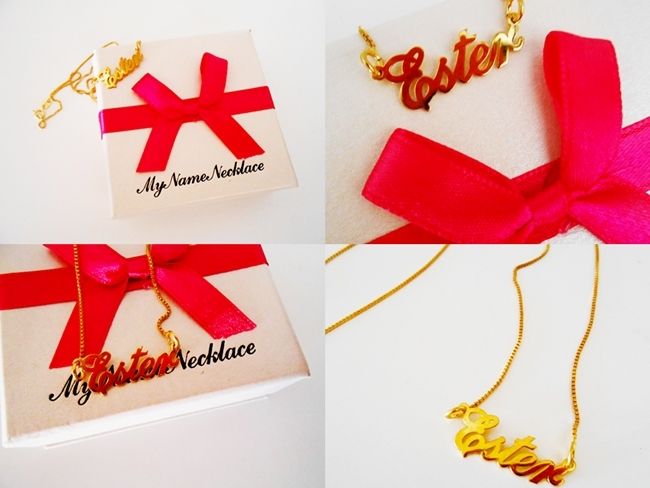 The product

O produto
Oh man, who doesn't like custom made accessories? You feel so special because you know that's for you and no one else. My sister and I often borrow things from each other and I'm sure you do it someone else too but this is a piece that is only for yourself. It's your name, it's you, you get to wear it! On My Name Necklace you can choose different types of jewelry (yes, they sell more than just necklaces), the material (I chose gold), the chain length and even the font! I chose this one and I couldn't be happier with it! If you're afraid of ordering a necklace whose font won't look good on your name, don't fear, you can preview how letters look with that font! I personally think the chain I chose has just the right length but you can get a smaller or larger chain according to your preferences! Also, I wish I could show you just how pretty the necklace is live, it shines beautifully, I love it so much!
Quem é que não gosta de acessórios personalizados? Sentimo-nos tão especiais porque sabemos que foram feitos para nós e mais ninguém. Eu e a minha irmã normalmente emprestamos coisas uma à outra e tenho a certeza que vocês também o fazem com alguém mas esta peça é algo só para vocês. É o vosso nome, são vocês, vocês é que a usam! Na My Name Necklace podem escolher diferentes tipos de bijuteria (sim, eles vendem mais do que apenas colares), o material (eu escolhi ouro), o comprimento da corrente e até o tipo de letra! Eu escolhi este e não podia estar mais feliz com ele! Se tiverem receio de encomendar um colar cujo tipo de letra não favoreça o vosso nome, não temam, podem pré-visualizar como as letras ficam nesse tipo de letra! Pessoalmente penso que a corrente que escolhi tem o comprimento perfeito mas podem escolher uma mais pequena ou maior de acordo com as vossas preferências! Além disso, gostava de vos poder mostrar o quão bonito o colar é ao vivo, brilha lindamente, adoro-o!
Communication

Comunicação
My contact, Niki, was very kind and answered my messages very quickly. Amazing customer service!
O meu contacto, a Niki, foi muito simpática e respondeu às minhas mensagens rapidamente. Fantástico apoio ao cliente!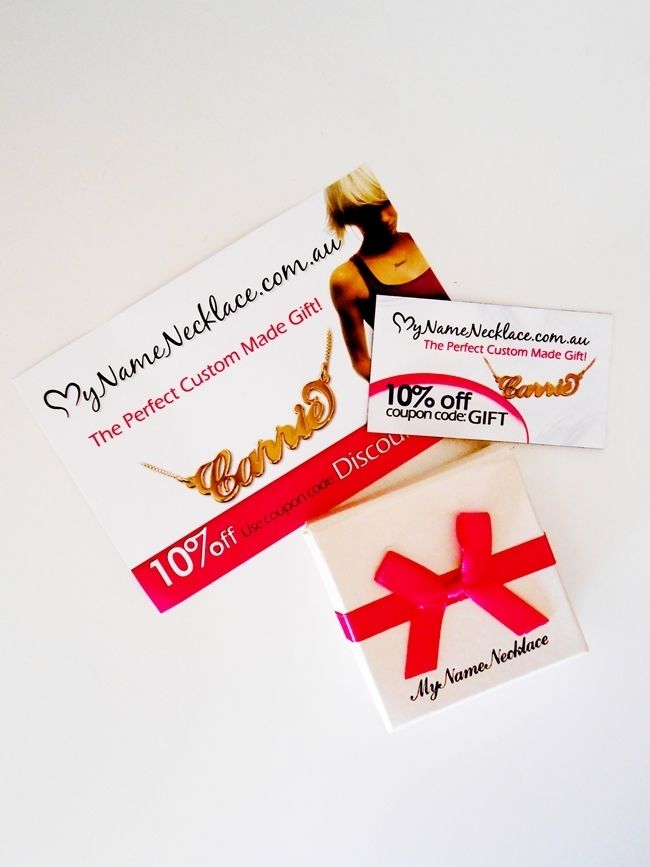 If you want to buy from My Name Necklace, it may be useful to you to know I have received these two cards, each with a 10% off coupon code (just choose whatever you want) so I'm sharing them with you! Have fun shopping your own custom name necklace!
Se quiserem comprar na My Name Necklace, talvez vos seja útil saberem que eu recebi estes dois cartões, cada um com um cupão de desconto de 10% (apenas escolham o que quiserem) por isso partilho-os convosco! Divirtam-se a comprar o vosso próprio colar com nome personalizado!