Fashion
What I Wore: Colourful Matrioshkas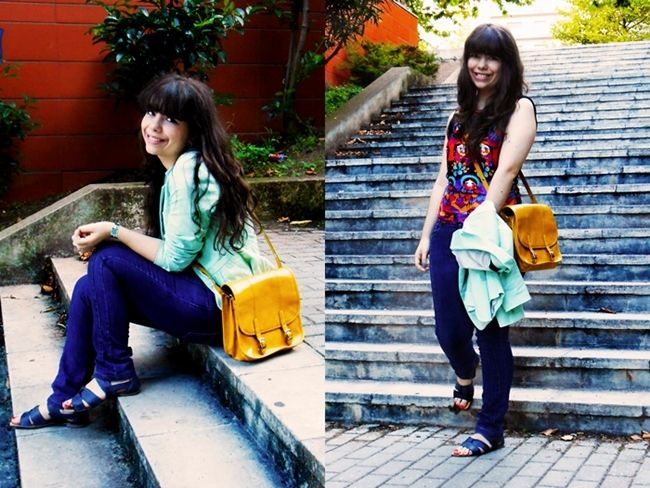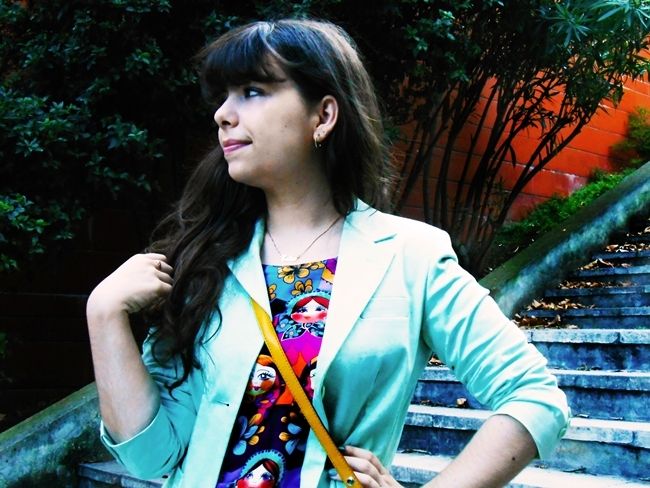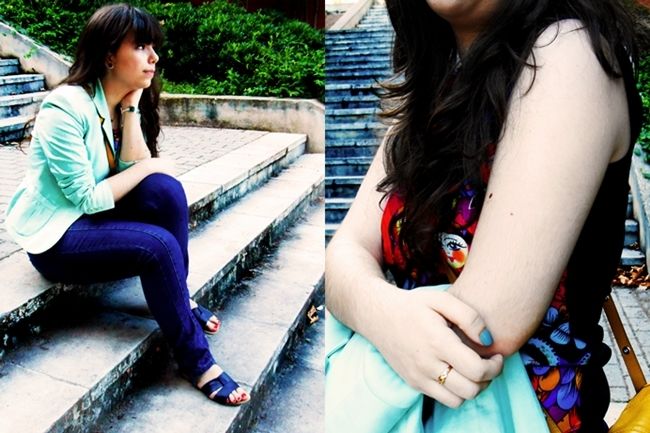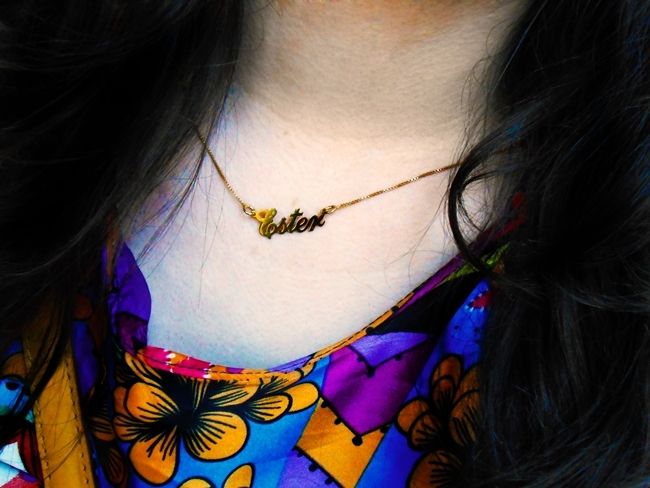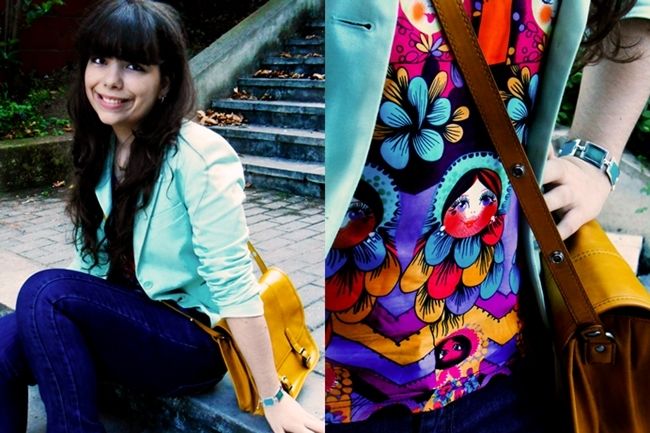 Top: c/o Hello Blogshop
Blazer: Pied' Poule
Jeans

Calças de Ganga

: New Code
Bag

Mala

: Zara
Sandals

Sandálias

: Seaside
Necklace

Colar

: c/o My Name Necklace
Priviet (Hello)! As you may have noticed, I share every now and then a little bit about myself on my outfit posts as this won't be an exception... this gorgeous top with a matrioshkas print I got from Hello Blogshop just reminded me of sharing a little random fact about me this time... I have a lot of friends from East Europe. I have quite a lot of friends from there so my sister usually says all my friends hail from East Europe - which is not true at all - but I suppose I do know a certain number of Ukrainians, Russians, Czechs, Moldovans, Romanians, Poles (and others) above the average. This being said, I hear Russian I'd say pretty much everyday. A Ukrainian guy I know often would ask me how the hell haven't I learned Russian yet (well, because it is too hard! One of my best friends, who's from Moldova, even tried to teach me a bit but we both gave up haha). Still, I got a bit used to how it sounds and I'm able to get little sayings such as Priviet (Hello), Kak dela? (How are you?), Spaseeba (Thank you), Paka (Goodbye). I easily remember Dobriy den (Good afternoon) and Dobriy vecher (Good evening) but I take sometime to remember Dobraye utro (Good morning) because the first two are just like in Czech unlike the third one.
Do you guys have friends who hail from other countries? Does it get you a bit more used to their native languages? I truly love meeting people from different countries... as you know I'm an International Relations student and I absolutely love learning other languages and getting in touch with different cultures so perhaps that's why I love being surrounded with so many different people!
Of course when I saw this matrioshkas top it immediatly reminded me of my east friends (specially my friend from Moldova as I often gift her presents with matrioshkas haha), I can't wait to wear it to college and show off how pretty this top is! It's really colourful and super light, I'm loving how it fits! I usually see similar/exact same clothes on different shops online but I gotta confess I had never see this top before anywhere, I had to get it! It's quite incredible the range of clothing Hello Blogshop has, I love how unique the clothes they sell are!
By the way, do you know what else I can say in Russian? Menya zavut Ester (My name is Ester)! Which, despite the language you talk, is what you'll understand if you get to see me wearing this beautiful necklace! I just got it from My Name Necklace, a shop that sells custom name necklaces! I remember when I went to Czech Republic back in 2010, I went to a street market in Prague and there was a vendor selling a sort of wire made necklaces with names. I felt very tempted back then to get one for myself but I didn't (and I can't even remember why) and I deeply regreted it. Now I have my own name necklace and I'm in love with it! It's quite simple and discrete so I can wear it with pretty much any outfit, I love it!
Priviet (Olá)! Como já devem ter reparado, eu de vez em quando partilho um pouco sobre mim nos meus posts de outfits e este não será excepção... este fantástico top com um padrão de matrioshkas que eu recebi da Hello Blogshop lembrou-me de partilhar um facto aleatório sobre mim... tenho muitos amigos da Europa de Leste. Tenho alguns amigos de lá por isso a minha irmã frequentemente diz que todos os meus amigos vêm da Europa de Leste - o que não é verdade de todo - mas acho que conheço um número de ucranianos, russos, checos, moldavos, romenos, polacos (e outros) superior à média. Dito isto, ouço russo eu diria que basicamente todos os dias. Um ucraniano que eu conheço costumava perguntar-me frequentemente como é que eu ainda não tinha aprendido russo (bem, porque é muito difícil! Uma das minhas melhores amigas, que é moldava, ainda me tentou ensinar um pouco mas ambas desistimos haha). Ainda assim, habituei-me a como soa e consigo perceber algumas coisas tais como Priviet (Olá), Kak dela? (Como estás?), Spaseeba (Obrigado), Paka (Adeus). Lembro-me facilmente de Dobriy den (Boa tarde) e Dobriy vecher (Boa noite) mas demoro um bocado a lembrar-me de Dobraye utro (Bom dia) porque os dois primeiros são iguais em checo mas o último não.
Vocês também têm amigos que vêm de outros países? Ficam mais habituados à sua língua nativa? Eu adoro conhecer pessoas de outros países... como sabem eu estudo Relações Internacionais e adoro aprender línguas diferentes e contactar com diferentes culturas e talvez por isso adore estar rodeada de pessoas tão diferentes!
É claro que quando vi este top de matrioshkas lembrei-me imediatamente dos meus amigos de Leste (especialmente da minha amiga da Moldávia já que costumo oferecer-lhe prendas com matrioshkas haha), mal posso esperar por usá-lo para a faculdade e mostrar o quão bonito este top é! É mesmo colorido e super leve, adoro como fica! Normalmente vejo roupas similares/iguais em várias lojas online mas tenho que confessar que nunca tinha visto este top antes, tinha de o ter! É incrível a variedade de roupas que a
Hello Blogshop
tem, adoro o quão únicas as roupas que eles vendem são!
Já agora, sabem o que é que eu também consigo dizer em russo? Menya zavut Ester (Chamo-me Ester)! O que, independentemente da língua que falem, é o que vão perceber se me virem a usar este lindíssimo colar! Recebi-o da
My Name Necklace, uma loja que vende colares personalizáveis com o nome! Lembro-me de quando estive na República Checa em 2010, fui a um mercado de rua em Praga e havia lá um vendedor com uma espécie de colares feitos de arame com nomes. Senti-me muito tentada a comprar um para mim mas não o fiz (e nem me lembro porquê) e arrependo-me profundamente. Agora já tenho o meu próprio colar com nome e adoro-o! É simples e discreto por isso posso usá-lo basicamente com qualquer outfit, adoro!
As usual, if you like this outfit, don't forget to hype it on Lookbook and vote 'chic' on Chictopia!
Hope you'll have a great week! Da svidaniya (Goodbye)!
Como já é hábito, se gostarem deste outfit não se esqueçam de carregar 'hype' no Lookbook e de votar 'chic' no Chictopia!
Espero que tenham uma óptima semana! Da svidaniya (Adeus)!