Beleza
Review: Itay Liquid Foundation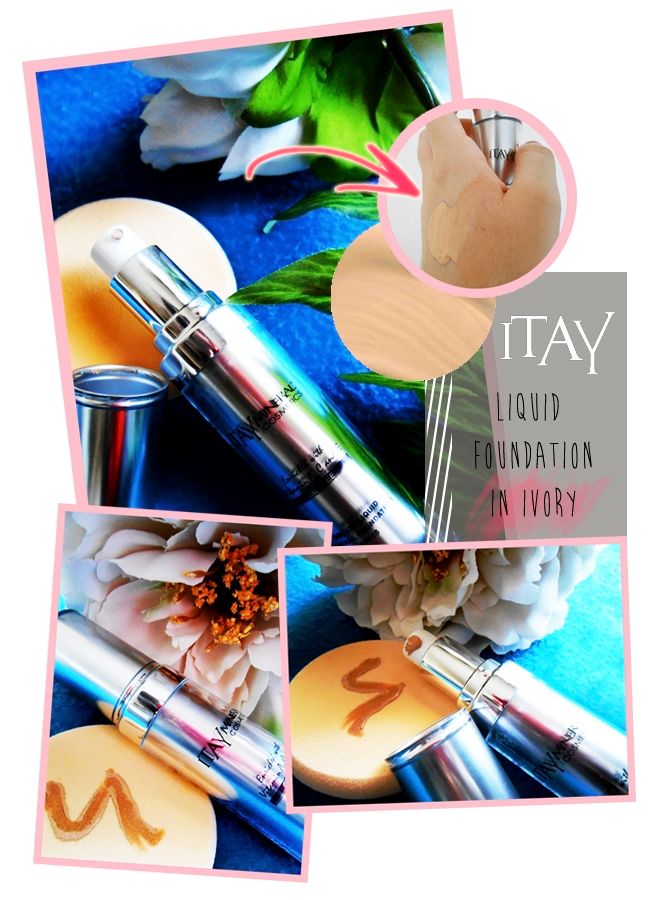 A while ago I was asked by Itay Mineral Cosmetics if I'd like to try their foundations. Being a make-up addict, of course I said yes. As I prefer liquid foundations over powder ones, I decided to pick one for me in the colour Ivory.
Há uns tempos a Itay Mineral Cosmetics perguntou-me se gostava de experimentar uma das suas bases. Sendo viciada em maquilhagem, é claro que disse que sim. Como prefiro bases líquidas às em pó, decidi escolher uma para mim na cor Ivory .

Itay's liquid foundation is an oil-free liquid foundation which restores your skin to its natural flawless finish, controling shine while it nourishes facial skin and evens out skin tone.
A base líquida da Itay é uma base líquida sem óleos que restaura o acabamento natural sem imperfeições da tua pele, controlando o brilho enquanto nutrifica a pele facial e equilibra o tom de pele.
This foundation costs 59.95$ and comes in a bottle of 1oz/30ml. As many of you may know, foundations are usual quite expensive so this price didn't surprise me. However, I can tell you the bottle is quite big and really contains a lot of foundation. I've been testing this foundation for a while and the truth is you don't need a very big quantity of it to distribute on your face as it as a fantastic coverage.
Esta base custa 59.95$ e vem num frasco de 1oz/30ml. Como muitos de vocês devem saber, as bases são normalmente caras por isso este preço não me surpreendeu. Ainda assim, posso vos dizer que o frasco é bem grande e tem muita base. Já tenho andado a testar esta base há algum tempo e a verdade é que não é precisa uma grande quandidade para distribuir por toda a cara já que tem uma cobertura fantástica.
As I'm quite pale, I decided to pick this liquid foundation in the colour Ivory. In advance, let me just tell you I have a huge problem both with foundations and bb creams due to my skin colour. I haven't yet found a foundation that exactly matches my fair skin. I always end up buying the lightest colour available even if ends up turning out a little bit darker than my skin. This being said, I never had high expectations for this foundation when it comes to its colour. I know cosmetics companies produce light colours probably for people who aren't just as pale as I am so, no matter how much I'd love to have a foundation matching my colour skin, I try not to be too picky with it.
You can see the swatch on the colour Ivory above and how it looks on my skin. On the left part of my hand, you may see how the foundation looks originally and on the right how it will look after I blend it. I found out that, after a lot of blending, it somehow gets mixed with my skin colour. Not a perfect match but, still, I'd say this foundation is a winner comparing to all the foundations I've tried so far.
Como sou pálida, decidi escolher esta base na cor Ivory. Desde já, deixem-me dizer-vos que tenho um enorme problema tanto com bases como com bb creams devido à minha cor de pele. Ainda não encontrei uma base que corresponda exactamente à minha pele clara. Acabo sempre por comprar a cor mais clara de entre as disponíveis ainda que acabe por ser mais escura que a minha pele. Dito isto, nunca tive altas expectativas quanto à cor desta base. Sei que as empresas de cosmética fabricam cores claras provavelmente para pessoas que não são tão pálidas como eu por isso, não importa o quanto eu gostasse de ter uma base que combinasse com o meu tom de pele, tento não ser muito esquisita nesse aspecto.
Podem ver acima a amostra da cor Ivory e como fica na minha pele. Na parte esquerda da minha mão, podem ver como a base fica originalmente e na parte direita como fica depois de a matizar. Descobri que, depois de misturar bem, fica um pouco harmonizada com o meu tom de pele. Não é uma correspondência exacta, mas, ainda assim, diria que esta base é uma vencedora comparada com as bases que experimentei até hoje.


- This liquid foundation is enriched with vitamins A, C and E, nourishing your face while covering it for a radiant and flawless skin!
- Esta base é enriquecida com vitaminas A, C e E, nutrindo a nossa cara enquanto a cobre para uma pele radiante e sem imperfeições!
- The bottle is quite big and this foundation will last a long time before you'll need to buy a new one! Plus, it's perfect to carry everywhere in your bag so you can wear it on an unexpected moment!
- O frasco é bem grande e esta base vai durar muito tempo antes que seja preciso comprar uma nova! Além disso, é perfeita para levar para todo o lado na mala e usar num imprevisto!

- The price may be a bit too high if you're not planning on spending too much on your foundation. Yet, it definitely pays off the investment.
- O preço talvez seja um pouco elevado se não estiveres a planear gastar muito numa base. Ainda assim, definitivamente vale a pena o investimento.
- I'd suggest producing a colour slightly lighter than Ivory for really pale people like me. Still, this is probably the fairest foundation I've ever tried it!
- Eu sugeria que se fabricasse uma cor ligeiramente mais clara que a Ivory para pessoas mesmo pa´lidas como eu. Ainda assim, esta é provavelmente a base mais clara que já experimentei!

♥
Disclosure: This product has been sent to me for review purposes only. I have not received any compensation, everything stated is my own opinion.
Divulgação: Este produto foi-me enviado para propósitos de review apenas. Não recebi qualquer compensação, tudo o que aqui é afirmado é a minha opinião pessoal.