Fashion
5 Ways to Wear a Denim Blouse
Personally, I think you don't need a very big wardrobe but rather a couple of basic pieces that you can wear in many different ways and fitting varied styles. That is why I am introducing you to a new feature here on the blog: 5 ways to wear...
Pessoalmente, penso que não é preciso ter um guarda-roupa muito grande mas antes umas poucas peças básicas que possam ser usadas de formas diferentes e que combinem com diversos estilos. É por isso que vos apresento uma nova feature aqui no blog: 5 ways to wear...
On this first 5 ways to wear... I will share some of my favourite tips to wear a denim blouse! Denim blouses (or chambray shirts) used to be seen only as a part of cowboys or factory workers' wardrobe but they have appeared in recent years as a modern trend and a versatile staple. This is a piece that will never go out of style!
Neste primeiro 5 ways to wear... vou partilhar algumas das minhas dicas preferidas para usar uma blusa de ganga! As blusas de ganga costumavam ser vistas apenas como uma parte do guarda-roupa do cowboys ou dos trabalhadores de fábricas mas apareceram mais recentemente como uma tendência moderna e uma opção versátil. Esta é uma peça que nunca sairá de moda!
Blazer: c/o Sheinside | Belt

Cinto

: Lanidor | Boots

Botas

: Seaside
There's nothing easier to make your denim blouse look unique than adding a bow! You can add a pin with a pre-made bow or simply pick up a piece of ribbon and tie a bow under the collar of your blouse!
Não há nada mais fácil para fazer a vossa blusa de ganga parecer única que adicionar um laço! Podem adicionar uma pregadeira com um laço já feito ou simplesmente pegar num bocado de fita e atar um laço por baixo da gola da vossa blusa!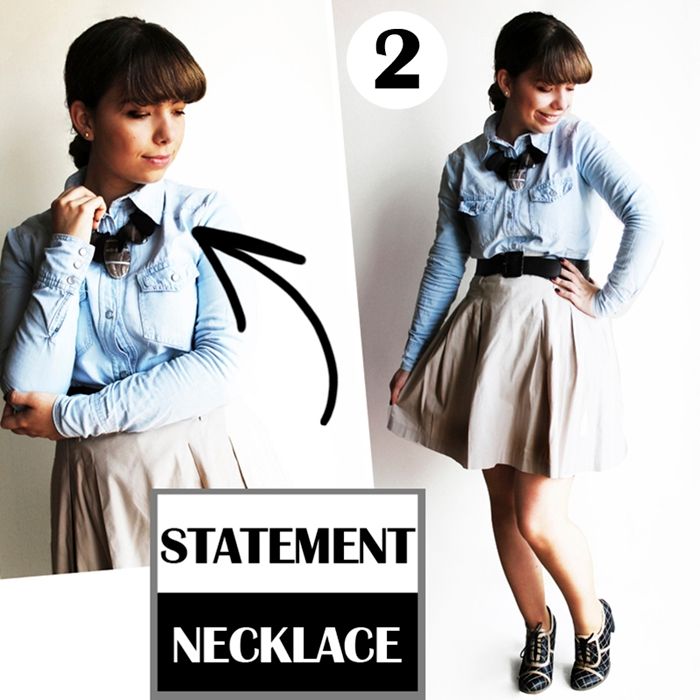 Skirt

Saia

: Zara | Shoes

Sapatos

: Foreva
2.
Statement necklace
Colar statement
Another really simple trick is adding a statement necklace! Not only it makes your outfit become more complete as it also makes you able to style your denim blouse by showing which way you should go with the rest of your outfit (in terms of colour and style). Easy!
Um outro truque bem simples é adicionar um colar statement! Não só torna o outfit mais completo como também permite combinar a tua blusa de ganga mostrando em que direcção deves seguir com o resto do outfit (em termos de cor e estilo). Fácil!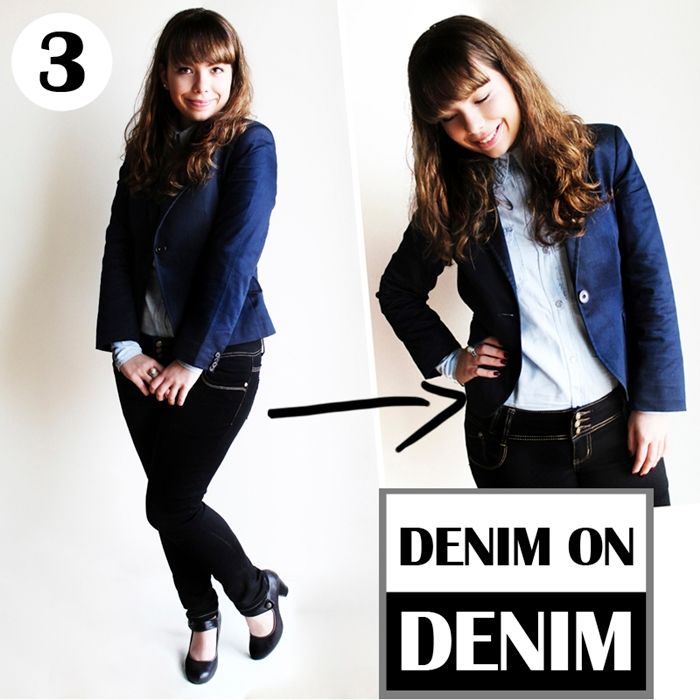 Blazer: Shop One Shoes

Sapatos

: Arian
3.
Denim on Denim
Ganga com ganga
This is somehow the number one rule on styling any piece of denim: you can never go wrong with denim on denim. Wear your denim blouse with a pair of jeans or a denim skirt or even add a denim blazer! Your pick!
Esta é de certa forma a regra número um no que toca a combinar qualquer peça de ganga: nunca se pode falhar com ganga com ganga. Usa a tua blusa de ganga com um par de calças ou uma saia de ganga ou adiciona até um blazer de ganga! É à tua escolha!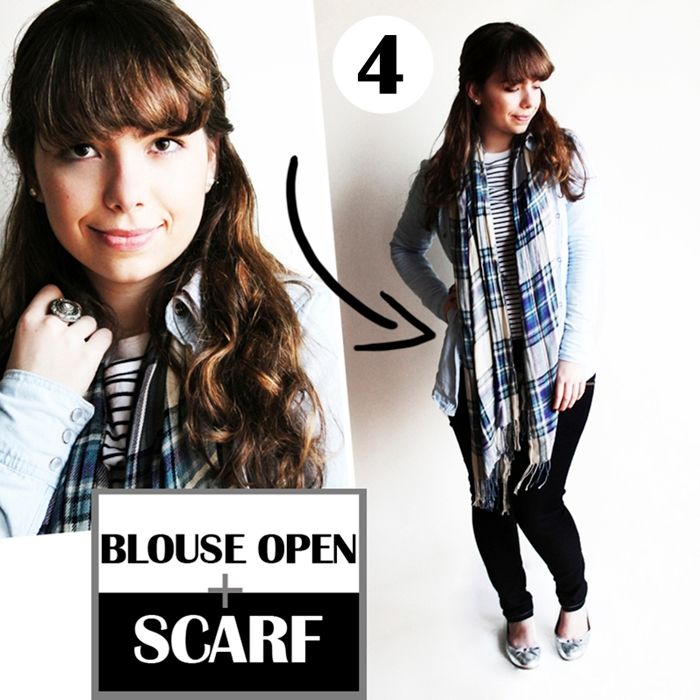 Shirt

Camisola

: C&A | Scarf

Lenço

: Lanidor | Flats

Sabrinas

: Parfois
4.
Blouse open + Scarf
Blusa aberta + Lenço
If you want to go for a more casual look, this is a great idea: leave your denim blouse open and put a scarf over it. Mix patterns for even more fun!
Se querem um look mais casual, esta é uma óptima ideia: deixem a vossa blusa de ganga aberta e ponham um lenço por cima. Misturem padrões para algo ainda mais divertido!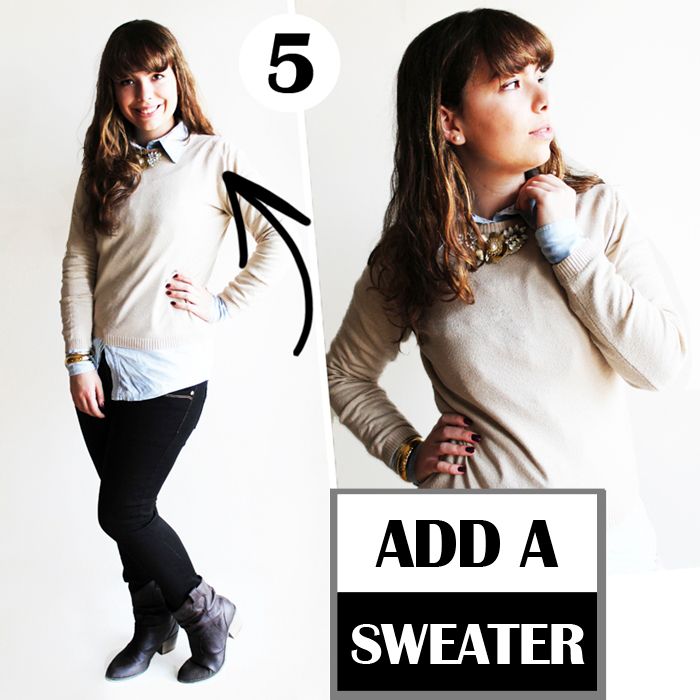 Sweater

Camisola

: C&A | Necklace

Colar

: Accessorize | Boots

Botas

: Spartoo
5.
Add a sweater
Adiciona uma camisola de malha
This is one of my favourites ways to style pretty much any collared blouse: add a sweater over it and let the collar out! It's really comfortable and cozy and yet chic!
Esta é uma das minhas formas preferidas de usar basicamente qualquer blusa com gola: ponham uma camisola de malha por cima e deixem a gola de fora! É muito comfortável e cómodo e ainda assim elegante!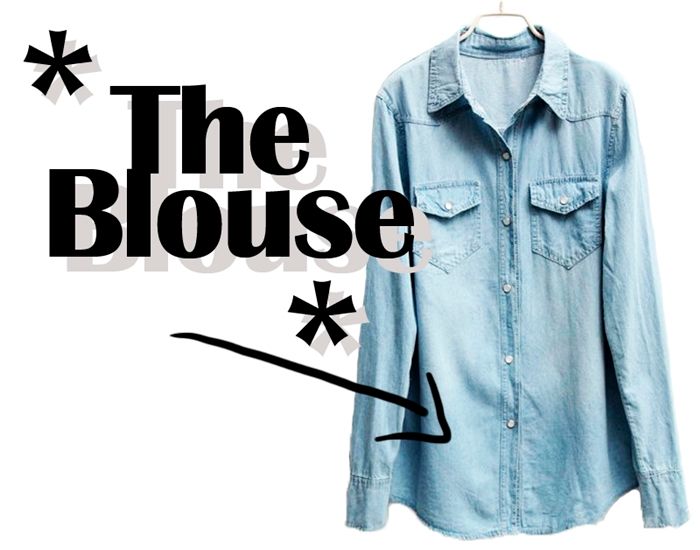 ↓
I am wearing...
Estou a usar...
Twin Pocket Longline Denim Blouse - Oasap
♥