Fashion
Laisse-moi te dessiner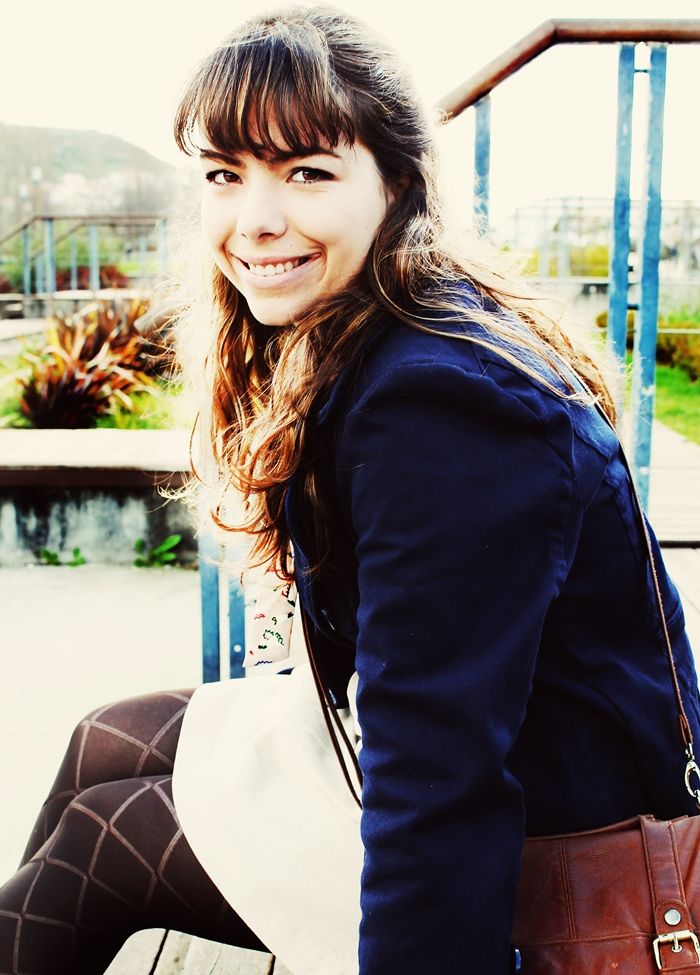 ♫ ♪ Désert - Emilie Simon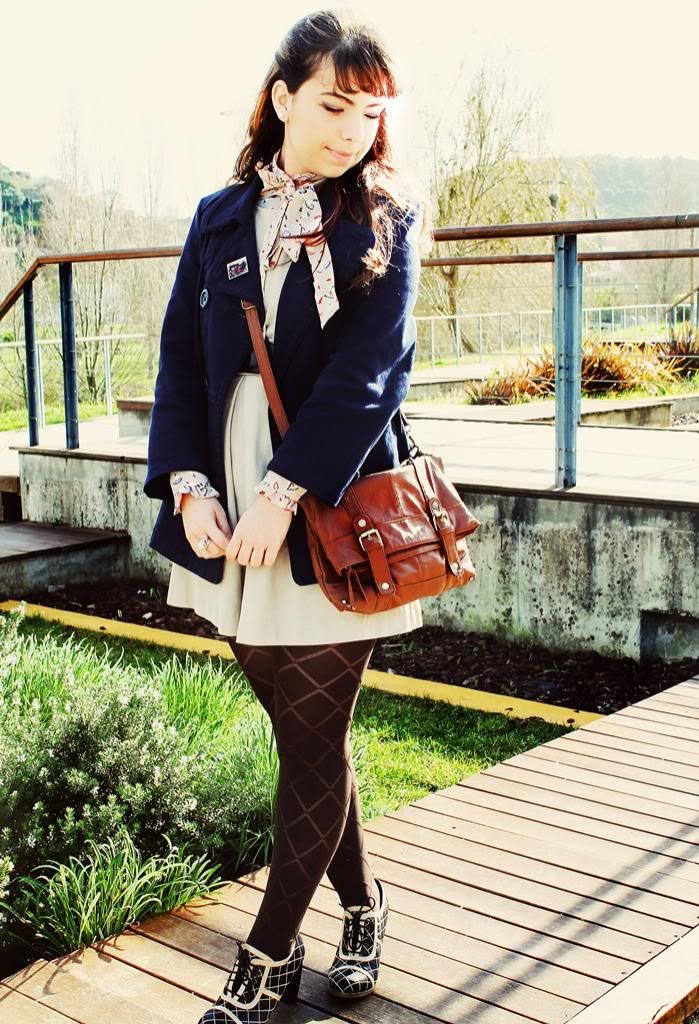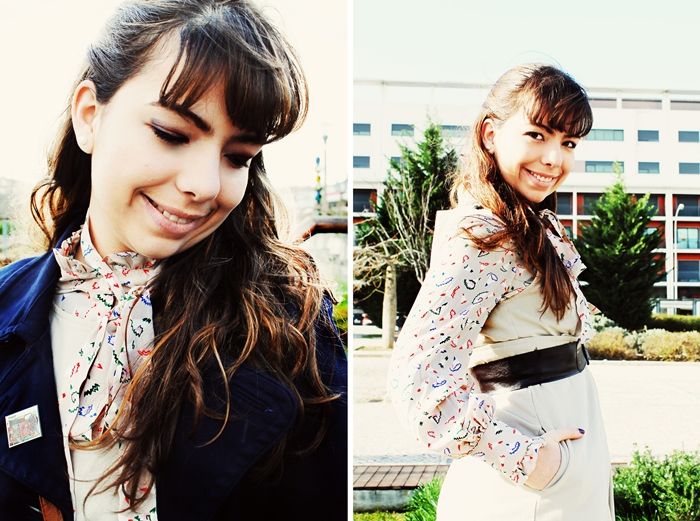 Blouse

Blusa

: c/o Oasap (available here disponível aqui)

|

Dress

Vestido

:

Mango |

Coat

Casaco

:

H&M |

Bag

Mala

:

Primark |

Tights

Collants

:

Primark |

Brooch

Pregadeira

:

Vintage |

Earrings

Brincos

:

Parfois |

Shoes

Sapatos

:

Foreva

This is definitely one of those posts which I am full of excitment to share. Actually I should say it's one of those posts in which I am wearing a piece of clothing that leaves me up in the clouds. I suppose this is that part where I could actually catalog myself as a fashion blogger because I have finally gone crazy with clothing but I think I won't because the piece I am so absolutely loving is this gorgeous blouse which features a print with... pencil sharpenings! So the art blogger finally meets the fashion blogger, right?
You already know I am slightly way too much obsessed with anything with pencils but I literally grabbed this blouse the moment I saw it as you might recognise the print either from this skirt or this dress which I have shared here on the blog and, this way, understand why my feelings about this blouse. Actually, I'd say this is my very statement piece. Literally. If there was a piece that would state something about me, this would probably be it!
Este é definitivamente um daqueles posts que estou muito entusiasmada por partilhar. Na verdade eu deveria dizer que é um daqueles posts em que estou a usar uma peça de roupa que me deixa nas nuvens. Suponho que esta é a parte em que me poderia catalogar como fashion blogger porque finalmente enlouqueci por roupa mas acho que não o posso dizer porque a peça que absolutamente adoro é esta blusa fantástica que tem uma padrão de... aparas de lápis! Parece que a art blogger finalmente se misturou com a fashion blogger, certo?
Vocês já sabem que eu sou ligeiramente demasiado obcecada com tudo o que tenha lápis mas quis esta blusa literalmente no momento em que a vi já que devem reconhecer este padrão tanto desta saia e deste vestido que já partilhei no blog e, dessa forma, perceber os meus sentimentos quanto a esta blusa. Na verdade, eu diria que esta é a minha peça statement. Literalmente. Porque se há uma peça que realmente diria algo sobre mim, deveria ser esta!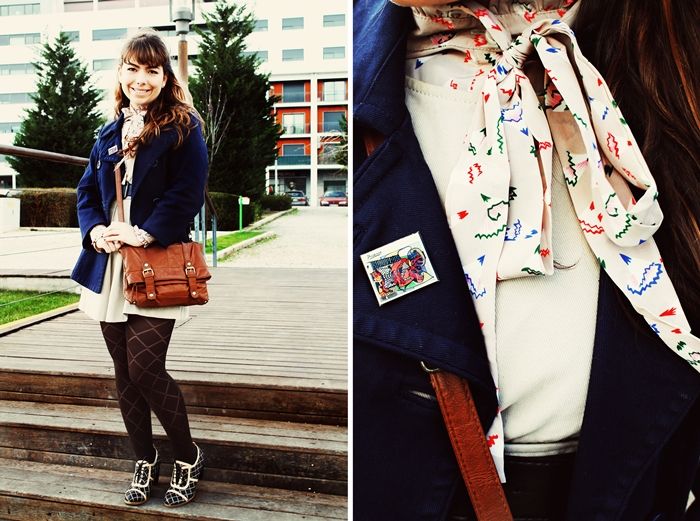 Talking about these photos, I was very close to leave them on my computer without posting them. Don't misunderstand me, I love this outfit but the day I took them was extremely windy and the weather would change very quickly so it was quite hard to get some decent photos. They would either be too light or too dark and both my hair and the bow on my blouse were constantly flying in front of my face. In the end, I was certain that I wouldn't be able to make a post out of those photos but I still passed them from my camera to my computer and actually found out there was a tiny chance I would have something to share. This being said, I am aware these might not be the best photos but I still hope you'll like them!
Falando sobre estas fotos, estive muito perto de as deixar no meu computador sem as publicar. Não me entendam mal, eu adoro este outfit mas no dia em que as tirei estava mesmo muito vento e o tempo mudava rapidamente por isso foi muito difícil conseguir umas fotos decentes. Ou ficavam muito claras ou muito escuras e tanto o meu cabelo como o laço da minha blusa estavam constantemente a voar em frente à minha cara. No final, estava certa de não conseguir fazer um post com estas fotos mas ainda assim passei-as da minha máquina para o meu computador e acabei por descobrir que havia uma pequena hipótese de conseguir ter algo para partilhar. Dito isto, estou consciente que estas fotos podem não ser as melhores mas ainda assim espero que gostem delas!