Fashion
I got nine lives, cat's eyes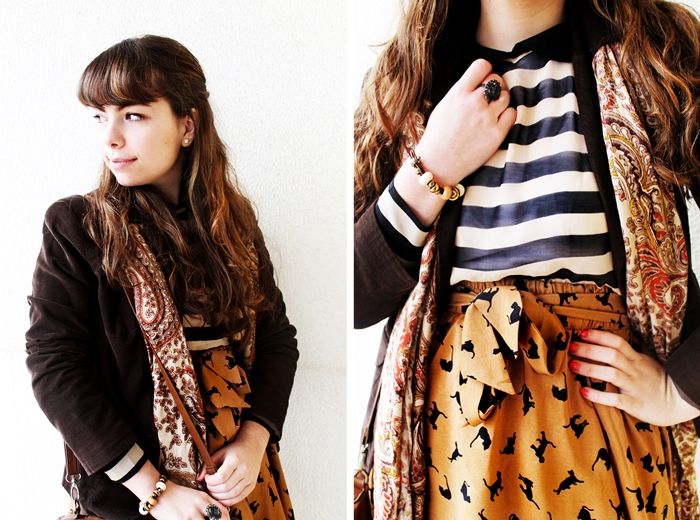 Shirt

Camisola

: c/o Lush | Skirt

Saia

: Ebay | Tights

Collants

: Primark | Scarf

Lenço

: Cortefiel | Brincos

Earrings

: Parfois | Bag

Mala

: Primark

|

Ring

Anel

: c/o The Purple Shmurple Shoppe

|

Shoes

Sapatos

:

Deichmann
As I have mentioned here, I decided to try to start taking some photos of my outfits indoors, at least during week days, so you could see what I have been wearing! I truly love the quality of outdoor photos so you may believe me when I say I thought a lot at the pros and cons of taking this decision but I hope the lack of quality and photos will be admissible if I can actually share my outfits more often! Be sure to let me know your honest opinion when it comes to this decision, it's really important to me!
Speaking of this outfit in specific, this is just something casual I like to wear to school, with my usual mix of patterns! I haven't worn this skirt in a long time and it reminded me of how much I love it even if the cat pattern doesn't match everything... still, I thought it looked great with my peter pan collar striped blouse so I decided to wear it! Stylish and yet super comfy!
Como mencionei aqui, decidi tentar começar a tirar algumas fotos a outfits dentro de casa, pelo menos durante a semana, para que possam ver o que tenho usado! Eu adoro verdadeiramente a qualidade das fotos tiradas na rua por isso acreditem em mim quando vos digo que pensei muito nos prós e contras de tomar esta decisão mas espero que a falta de qualidade e de fotos seja admissível se na realidade conseguir partilhar os meus outfits mais frequentemente! Deixem-me a vossa opinião honesta no que toca a esta decisão, é muito importante para mim!
Falando deste outfit em específico, é simplesmente algo casual que gosto de usar para a faculdade, com a minha mistura de padrões habitual! Não usava esta saia há muito tempo e fez-me lembrar o quão gosto dela mesmo se o padrão de gatos não combina com tudo... ainda assim, pareceu-me óptima com a minha blusa às riscas com gola peter pan por isso decidi usá-la! Com estilo e ainda assim super comfortável!