Beleza
Review: Carrot from Lush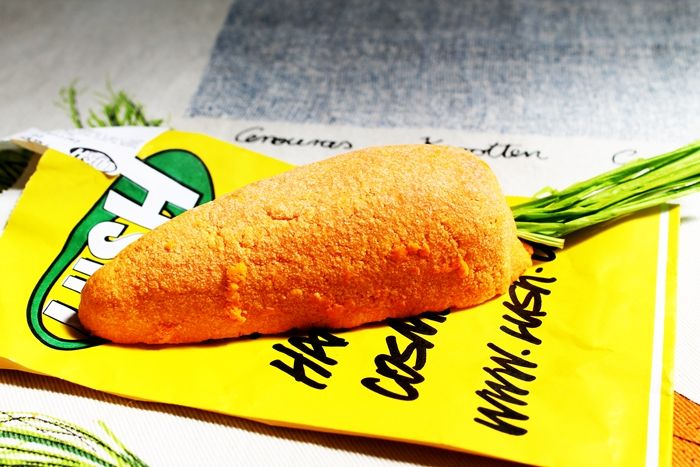 What is it?

O que é?
Carrot is a reusable bubble bar (included in Easter products from Lush) that has a tropical scent from fruity essential oils of buchu, lemon and bergamot.
Like all reusable bars, Carrot can be held under a running tap to produce lots of fragrant bubbles. Once you have used it, put it aside to dry and you'll be able to use it for several more baths.
A Carrot é uma espuma de banho reutilizável (incluída nos produtos de Páscoa da Lush) que tem um cheiro tropical de óleos essenciais frutados de buchu, limão e bergamota.
Tal como todas as espumas de banho reutilizáveis, a Carrot pode ser segurada sob água corrente para produzir muita espuma perfumada. Assim que a tiveres usada, põe-na de lado a secar e vais poder utilizá-la para mais alguns banhos.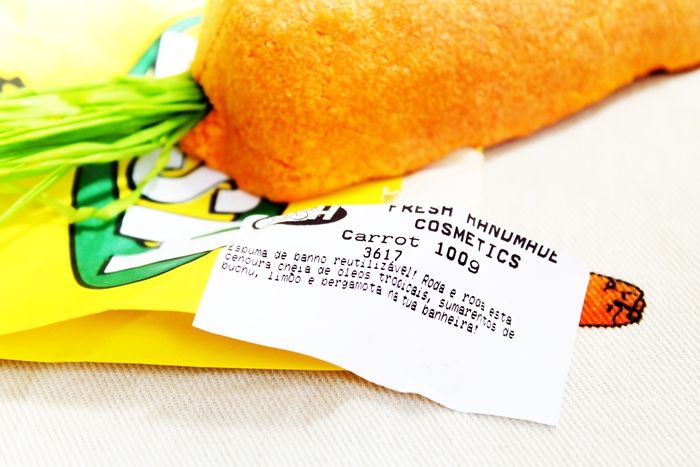 Quantity/Price

Quantidade/Preço
Carrot reusable bubble bar weights 100g and costs 7.5€. It is a bit pricey for a simple bubble bar but, if you love other bubble bars from Lush, then just consider that you're actually making the right choice when picking this bar as it lasts more than the others!
I have already used it a couple times and it seems to be lasting! I can't exactly predict for how long this bubble bar will last but I'd say you can definitely use it for at least 10 baths (if, for example, you're using it for your feet, it will last even more!). 100g you can reuse? Definitely a good idea!
A espuma de banho reutilizável Carrot pesa 100g e custa 7.5€. É um bocado caro para uma simples espuma de banho mas, se gostam das outras espumas de banho da Lush, então considerem que estão na verdade a fazer a escolha certa ao trazer esta espuma de banho já que dura mais do que as outras!
Eu já usei a minha algumas vezes e parece estar para durar! Não consigo prever com exactidão quanto tempo dura esta espuma de banho mas eu diria que podem usá-la definitivamente para pelo menos 10 banhos (se, por um exemplo, a utilizarem para os vossos pés, vai durar ainda mais!). 100g que se podem reutilizar? Definitivamente uma boa ideia!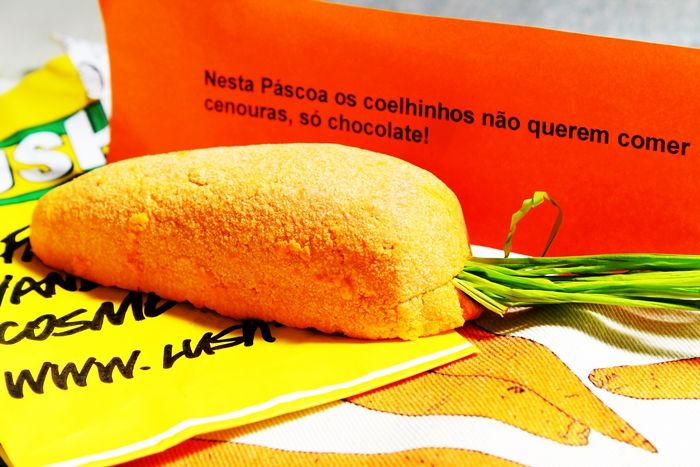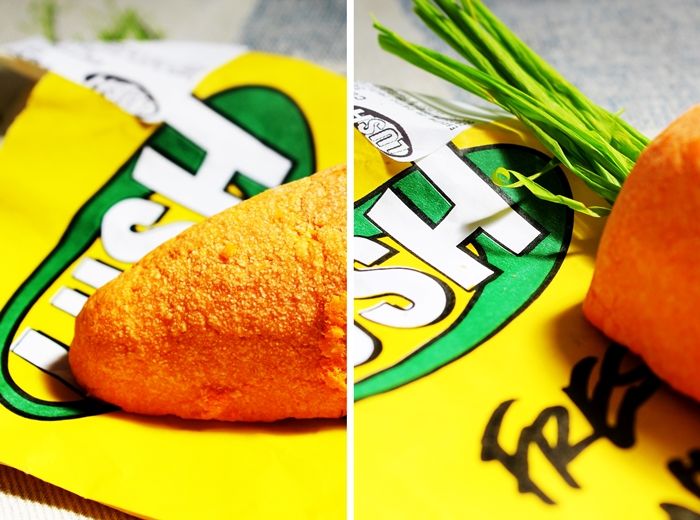 When I first heard this was a reusable bar, I think I was immediatly sold! I love the amazing scent of bubble bars from Lush but always get a bit sad by throwing them on the water and watch them so quickly disappear (also because some of them are just a bit pricey!).
At the moment I got Carrot, I immediatly loved how it smelled. I'm not always very good at describing what something smells like but I'd say this bubble bar reminds me a bit of a mix of tropical fruits such as mango or papaya with scented herbs... I know this description might sound a bit odd but it surely had a tropical scent to me! If you're expecting this bubble bar to smell like a real carrot (hmm I don't think that would be such a great idea!), you'll be mischieved - it smells way better!
When the bar touched the water, it suddenly acquired a lovely orange tone and a lot of bubbles (who doesn't love bubles?). It definitely made my skin smell great and look so soft to touch! Expect a relaxing bath!
Quando ouvi pela primeira vez que esta espuma de banho era reutilizável, fiquei logo cativada! Adoro o cheiro das espumas de banho da Lush mas fico sempre um pouco triste quando as atiro para a água e as vejo desaparecer tão rapidamente (também porque algumas são um pouco mais caras!).
No momento em que recebi a Carrot, adorei imediatamente o cheiro. Nem sempre sou lá muito boa a descrever a que é que algo cheira mas diria que esta espuma de banho me lembra uma mistura de frutos tropicais tais como manga ou papais com ervas aromáticas... sei que esta descrição deve soar um pouco estranha mas tem definitivamente um cheiro tropical para mim! Se estão à espera que esta espuma de banho cheire como uma verdadeira cenoura (hmm não acho que fosse lá grande ideia!), estão enganados - cheira muito melhor!
Assim que a espuma de banho tocou na água, esta adquiriu rapidamente um tom laranja fantástico e imensas bolhas (quem é que não gosta de bolhas?). A minha pele ficou a cheirar mesmo muito bem e suave ao toque! Esperem um banho relaxante!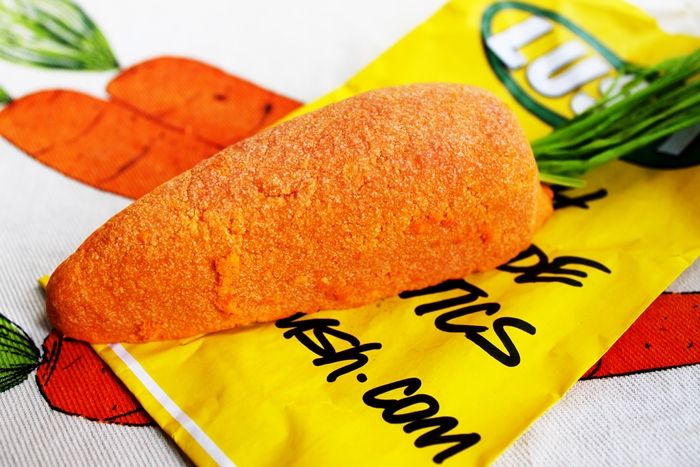 Pros

Prós
- It is a reusable bubble bar! I don't think there's any bigger pro than this one: you can actually use it, put it to dry and use it all over again!
- É uma espuma de banho reutilizável! Não acho que possa haver um pró maior do que este: podem mesmo usá-la, pô-la a secar e voltar a usar uma e outra vez!
- Carrot gives a lovely orange colour to your water and turns into a lot of bubbles! Prepare yourself to have a good smelling and soft skin!
- A Carrot dá à água uma cor alaranjada e tranforma-se em imensas bolhas! Prepara-te para teres uma pele suave e a cheira super bem!