Livros
What I Read: May
I'm not sure you remember but the previous month I read one of Game of Thrones books and wrote my two cents about it. Of course, I suppose you could see this coming... I had to read the next book! In fact, I read it right away so I finished this one in the first days of June (before I got caught up in the twirl of essays and exams!) and here I am again to give you an insight on this amazing book collection!
Não sei se se recordam mas no mês passado li um dos livros d' A Guerra dos Tronos e escrevi a minha opinião sobre o mesmo. É claro, acho que já esperavam isto... tive de ler o livro seguinte! Na verdade, li-o logo a seguir, por isso acabei este nos primeiros dias de Junho (antes de ser apanhada na teia de trabalhos e exames!) e aqui estou de novo para vos dar uma espreitadela nesta fantástica colecção de livros!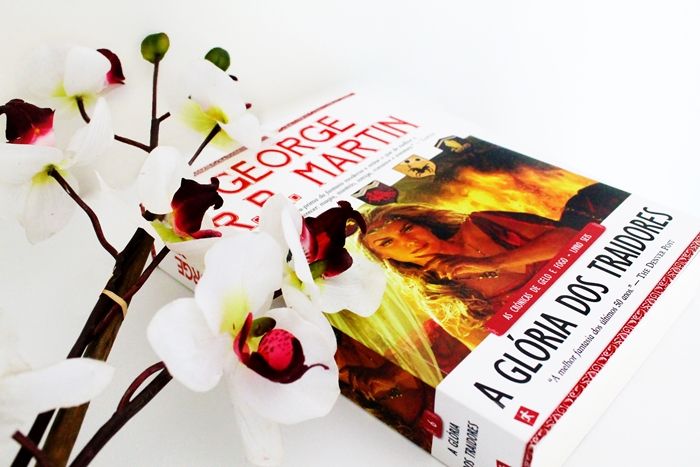 ♥ A Storm of Swords (Part II)

A Glória dos Traidores

- George R. R. Martin
♥
As I've told you before, this book collection is differently structured in Portuguese (each book in English corresponds to two books in Portuguese) so to give you an idea of what comprises, it pretty much starts with Daenerys trying to conquer Yunkai and negotiating with some of its leaders and it ends with Lady Catelyn Stark surprisingly getting back from the death! This was definitely one of my favourite books so far in this collection! So exciting!
Como já expliquei anteriormente, esta colecção de livros está estruturada de uma forma diferentes em português (cada livro em inglês corresponde a dois livros em português), por isso, para vos dar uma ideia do que o livro abrange, basicamente começa com a Daenerys a tentar conquistar Yunkai e a negociar com alguns dos seus líderes e acaba com a Lady Catelyn Stark a regressar dos mortos! Este foi definitivamente um dos meus livros preferidos até agora nesta colecção! Tão entusiasmante!
Some of my favourite parts of this book:
Algumas das minhas partes preferidas do livro:
I bet everyone who reads the books/watches the tv series loves Daenerys Targaryen. For that reason, I loved to read the scene in which Daenerys conquers Yunkai (after debating on how to accomplish it, regarding it was much easier to just pass through the city but she felt the need to free all the Yunkai slaves). In response, the people from Yunkai call her Mysha (Mother) in a very emotive scene! Emotive is also the way she finds about Sor Jorah's betrayal and outcasts him (even though he helped conquering the city, walking throught the sewers!). Aposto que quem quer que leia os livros/veja a série adora a Daenerys Targaryen. Por essa razão, adorei ler a cena em que a Daenerys conquista Yunkai (depois de se debater sobre como o alcançar, tendo em conta que seria muito mais fácil passar pela cidade, mas ela sente a necessidade de liberdade os escravos de Yunkai). Em resposta, os yunkaitas apelidam-na de Mysha (Mãe) numa cena muito emotiva! Igualmente emotiva foi a forma como ela descobre a traição de Sor Jorah e o expulsa (apesar de ele a ter ajudado a conquistar a cidade, andado pelos esgotos!).
On my previous review I told you I was rooting for Jaime and Brienne. Was I the only one whose heart stopped when he return to get her and saved her from the bear fight? I'm swooning over here! Na minha passada review eu disse-vos que estava a torcer pelo Jaime e a Brienne. Terei sido a única cujo coração parou quando ele voltou atrás para a ir buscar e a salvou da luta com o urso? Adorei!
Talking about emotional moments in this book, I can't help but mentioning two bloody weddings. I mean, we all knew some kings had to fall in order for others to rise but did anyone expect this? Maybe not. First of all, the so called 'Red Wedding' of Edmure Tully with one of Walder Frey's daughters, which ended in the slaughtery of the North, including Catelyn Stark and the King in the North, Robb (I have to confess I got a little teary, Robb was one of my favourite characters!). I got a bit mad to see all the changes they did to this scene on the tv series! Moving to another wedding, I actually was rooting to see whenever Joffrey was finally going to die! I guess even in death it got payback as he died choking with a pigeon pie! haha George Martin has some sense of humor! Falando de cenas emocionais no livro, acho que não posso deixar de mencionar dois casamentos sangrentos. Quer dizer, eu sei que todos sabiamos que alguns reis tinham de cair para outros se levantarem, mas alguém esperava isto? Talvez não. Em primeiro lugar, o chamado 'Casamento Sangrento' de Edmure Tully com uma das filhas de Walder Frey, que acabou com a matança do Norte, incluindo Catelyn Stark e o Rei no Norte, Robb (tenho de confessar que fiquei com uma lágrima no olho, o Robb era uma das minhas personagens favoritas!). Fiquei um pouco chateada com as alterações que fizeram a esta cena na série! Passando a outro casamento, estava a torcer para ver quando é que o Joffrey ia finalmente morrer! Parece que até na morte conseguiu sofrer as consequências, já que morreu engasgado com uma tarte de pombo! haha O George Martin tem algum sentido de humor!
I absolutely loved the description of the battle going on at The Wall! Man, it was one of the best things about this book! Reading about how Jon got to warn everyone and then became a leader and how, at the very last moment, Stannis' army came to rescue the Night's Watch because of Sor Davos! Best descriptions ever! Adorei absolutamente a descrição da batalha na Muralha! Deus, foi umas das melhores coisas neste livro! Ler sobre como o Jon conseguiu avisá-los e ainda se tornou um líder e como, no último minuto, o exército de Stannis chega para salvar a Patrulha da Noite por causa do Sor Davos! Melhores descrições de sempre!
If you're reading crazy George Martin, you know this man can't just write a book full of emotion and suspanse. No, he makes you suffer doing hundreds of pages and, when you think you had enough, the epilogue reveals Catelyn Stark (who was dead and thrown at the river!) is back from the death! What? I swear I just got an heart attack at the very last pages! Se estão a ler o maluco do George Martin, sabem que este homem não consegue simplesmente escrever um livro cheio de emoção e suspanse. Não, ele faz-vos sofrer por centenas de páginas e, quando pensam que já tiveram o suficiente, no epílogo ele revela que Catelyn Stark (que estava morta e foi atirada ao rio!) está de volta dos mortos! O quê? Juro que tive um ataque cardíaco nas últimas páginas!

I hope you enjoyed my review! I promise I'll be doing a little break on Game of Thrones now (not for long! haha) and in my next review I'll bring you something different! Enjoy reading!
Espero que tenham gostado da minha review! Prometo que vou fazer uma pequena pausa d'A Guerra dos Tronos agora (não por muito tempo! haha) e na minha próxima review trago-vos algo de diferente! Divirtam-se a ler!