Fashion
5 ways to wear a blazer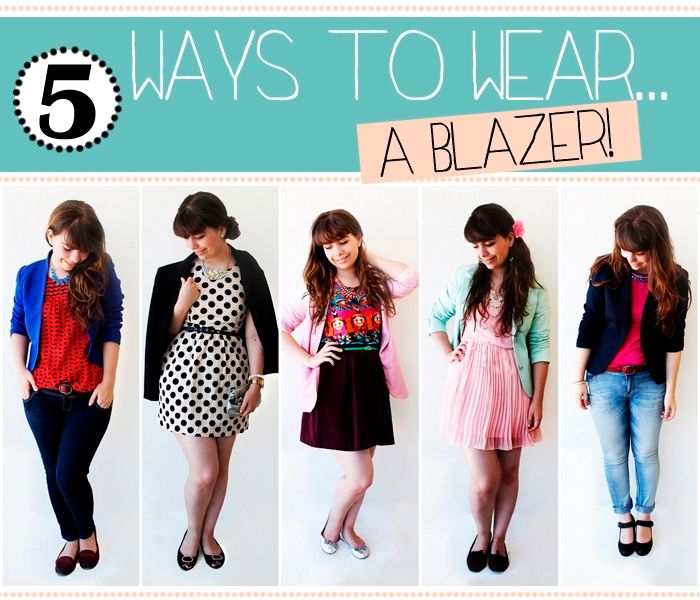 I am pretty sure you will agree with me when I say blazers are one of the most basic and versatiles staples you can have in your closet! I wear blazers throughout the whole year and I think they're great either if you're wearing a top in Summer or if you're layering different clothes in Winter! Plus, blazers come in all shapes, cuts and colours nowadays so there is no excuse not to wear them!
Tenho quase a certeza que vão concordar comigo quando digo que os blazers são das peças mais básicas e versáteis que se pode ter no armário! Eu uso blazer ao longo de todo o ano e acho que ficam fantásticos quer estejam a usar um top no Verão ou usar várias roupas em camadas no Inverno! Além disso, hoje em dia existem blazers de todas as formas, cortes e cores, por isso não há desculpa para não os usar!
One of my favourite tones for blazers are pastels. Indeed, not only pastel coloured blazers are amazing but you can easily style any blazer with these tones as it will created a contrast with the rest of your clothes!
Um dos meus tons preferidos para blazers são os tons pastel. De facto, não só blazers em cores pastel são fantásticos, mas podes facilmente usar qualquer blazer com estes tons para criar um contraste com o resto da tua roupa!
Dress

Vestido

:

Oasap |

Blazer:

Pied' Poule |

Hairclip

Gancho de cabelo

:

H&M
If you own at least one blazer, I'm pretty sure you might have a black one hanging in your closet! If you don't, then you definitely should because it is a basic staple! Black blazers go with everything and are fabulous if you want to show a more classic style!
Se têm pelo menos um blazer, então tenho quase a certeza que devem ter um blazer preto pendurado no vosso closet! Se não têm, então deviam porque é uma peça básica! Blazer pretos ficam bem com tudo e são fabulosos se quiserem ter um estilo mais clássico!
Dress

Vestido

: c/o Romwe

|

Blazer:

Mango |

Necklace

Colar

:

Accessorize |

Earrings

Brincos

:

Parfois |

Bag

Mala

:

Claire's |

Watch

Relógio

:

Parfois |

Flats

Sabrinas

:

Via Uno
If you want to step up with your outfit a little bit but you're afraid of going too far, try mixing two main colours (one being the colour of your blazer!). In this outfit I decided to wear only tones of red and blue, two complementary colours. Have fun!
Se querem inovar um pouco no vosso outfit, mas têm receio de ir demasiado longe, experimentem misturar duas cores principais (sendo uma delas a cor do vosso blazer!). Neste outfit decidi usar apenas tons de vermelho e azul, duas cores complementares. Divirtam-se!
If you happen to have a blazer that is a little bit out of the box, don't be afraid to mix it up with other bold pieces! In this outfit I am wearing a dip dye blazer and I decided to combine it with a print top! Don't be afraid to mix bold pieces, the key is to keep the rest of your outfit simple!
Se tiverem um blazer que é diferente do usual, não tenham medo de o usar com outras peças arrojadas! Neste outfit combinei o meu blazer ombré com um top de padrão! Não tenham receio de misturar peças arrojadas, o segredo é manter o resto do outfit simples!
When in doubt, acessorize! Wear a gorgeous statement necklace, put on some earrings... make your outfit stand out! When it comes to the blazer itself, you can accessorize it by putting on a brooch or tying it up with a belt! There are endless possibilities!
Quando estiverem na dúvida, usem acessórios! Ponham um statement necklace fabuloso, adicionem uns brincos... façam o vosso outfit destacar-se! No que respeita ao blazer em si, podem acessorizá-lo ao colocar uma pregadeira ou fechá-lo ao atar um cinto! As possibilidades são imensas!
Blazer:

Shop One |

Jeans

Calças de ganga

: Lanidor | Necklace

Colar

:

Bijulândia |

Bracelet

Pulseira

: c/o Shop Swear | Shoes

Sapatos

: Arian
5 ways to wear... is a feature in which I remix a piece of clothing or a trend in order to show you don't need a big wardrobe to be in fashion but rather a couple of basic pieces that you're able to wear
in many different ways and fitting varied styles.
O 5 ways to wear... é uma feature em que utilizou uma peça de roupa ou uma tendência de diferentes formas para mostrar que não é necessário ter um guarda-roupa grande para estar na moda, mas antes algumas peças básicas que sejam possíveis de usar de várias formas diferentes e que combinem com diversos estilos.
Previous 5 ways to wear...:
5 ways to wear...
anteriores
:
| Français |
Je suis sûr que vous serez d'accord avec moi quand je dis que blazers sont l'un des vêtements le plus élémentaires et versatiles que vous pouvez trouver dans votre garde-robe! Je porte des blazers toute l'année et je pense qu'ils sont super si vous portez un top en été ou même avec une superposition de vêtements en hiver! De plus, à nos jours il y a des blazers de toutes formes, coupes et couleurs donc il n'y a des excuses pour ne pas les porter!
1. Tons pastel
L'un de mes couleurs préférés pour blazers sont les tons pastel. En effet, pas seulement les blazers en couleurs pastel sont étonnants, mais vous pouvez facilement utiliser un blazer avec ces tons, car il crée un contraste avec le reste de vos vêtements!
Robe: Oasap | Blazer: Pied' Poule | Barrette: H&M
2. Style classique
Si vous possédez au moins un blazer, je suis sûr que vous avez un noir dans votre garde-robe! Si vous ne l'avez pas, alors vous devriez, parce que c'est un vêtement de base! Blazers noirs vont bien avec tout et sont fabuleux si vous voulez montrer un style plus classique!
Robe: c/o Romwe | Blazer: Mango | Collier: Accessorize | Boucles d'oreilles: Parfois | Sac: Claire's | Montre: Parfois | Ballerines: Via Uno
3. Deux couleurs
Si vous voulez changer votre outfit un peu, mais vous avez peur d'aller trop loin, essayez de mélanger deux couleurs principales (l'une étant la couleur de votre blazer!). Dans cet outfit, j'ai décidé de ne porter que des tons de rouge et bleu, deux couleurs complémentaires.
Top: c/o Romwe | Blazer: Kristine's Collection | Collier: C&A
4. Vêtements audacieux
Si vous avez un blazer qu'est un peu différent, n'avez pas peur de le mélanger avec d'autres éléments audacieux! Dans cet outfit, je porte un dip dye blazer et j'ai décidé de le combiner avec un top imprimé! N'avez pas peur de mélanger des vêtements différents, l'essentiel est de maintenir le reste de votre outfit simple!
Top: c/o Hello Blogshop | Blazer: c/o Romwe | Jupe: Sfera | Collier: c/o Romwe | Ballerinas: Parfois
5. Portez accessoires
En cas de doute, portez des accessoires! Portez un statement necklace magnifique, mettez des boucles d'oreilles... faites vos outfit se démarquer! Quand on parle de le blazer lui-même, vous pouvez accessoiriser en mettant une broche ou le nouer avec une ceinture! Les possibilités sont infinies!
Blazer: Shop One | Jeans: Lanidor | Collier: Bijulândia | Bracelet: c/o Shop Swear | Chaussures: Arian
5 ways to wear est une publication dans laquelle je fait un remix des vêtements ou des tendances pour montrer que vous n'avez pas besoin d'une grande garde-robe pour être à la mode, mais plutôt quelques vêtements de base que vous pouvez porter de différentes façons et en styles variés.