Cinémathèque
Cinémathèque: La vie d'une autre
La vie d'une autre was one of those movies I accidentaly found. Never heard of it before until it was right before my eyes and decided to watch it. The trailer impelled me to watch it but it turned out to be better than what those almost two minutes show!
La vie d'une autre é um daqueles filmes que descobri por acaso. Nunca tinha ouvido falar dele antes até estar mesmo em frente aos meus olhos e eu ter decidido vê-lo. O trailer impeliu-me a vê-lo, mas na verdade acabou por ser melhor do que o que aqueles quase dois minutos mostram!
La vie d'une autre
is adapted from a novel, narrating the story of Marie (Juliette Binoche), a career woman who finds herself in the mind of a 25-year-old party girl to wake up fifteen years later.
Marie sets her eyes in Paul (Mathieu Kassovitz) but the next morning as she crawls out of bed she discovers her life flash-forwarded: not only she has been married to Paul all this time but she's now mother of a young boy and also in the middle of a divorce. With a severe case of amnesia, Marie tries to understand her life as she does everything to save everything she knew.
La vie d'une autre
é adaptado de um livro, narrando a história de Marie (Juliette Binoche), uma mulher de negócios que se encontra na mente de uma rapariga de 25 anos, que acorda quinze anos depois. Marie encanta-se por Paul (Mathieu Kassovitz), mas na manhã seguinte ao sair da cama descobre que a sua vida avançou no tempo: não só esteve casada com Paul todo este tempo, mas também é mãe de um rapaz e está no meio de um divórcio. Com um caso severo de amnésia, Marie tenta perceber a sua vida enquanto faz de tudo para salvar aquilo que conhece.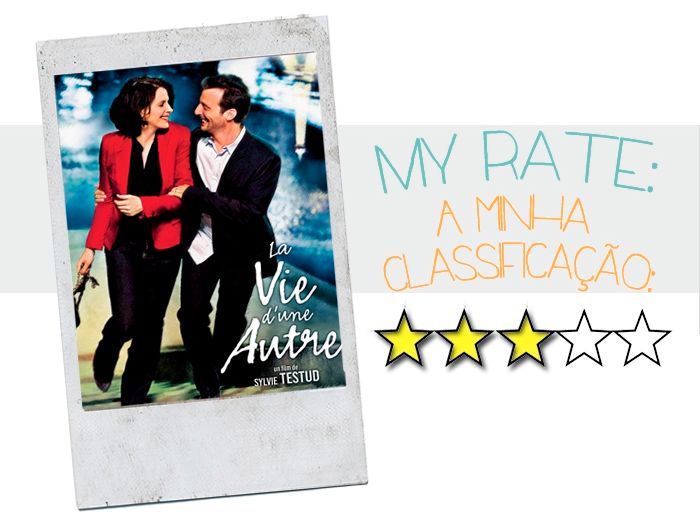 La vie d'une autre
is a fresh and light movie. While the plot itself doesn't seem to come to any deep conclusion as the movie goes on (you never get to understand why did Marie's life flash-forwarded to the future), the movie wins points for the little details. First of all, Juliette Binoche is a brilliant actress and her character makes the movie way more interesting! In fact, what I loved the most about this movie were the funny scenes in which Marie tries to find what she's supposed to do with her life (like when she plays a game with her son to find out who she is or when she asks her maid to help her find her car)!
It isn't a brilliant movie but if you're into half an hour of fun, then you should watch it!
A minha classificação: 3/5
La vie d'une autre
é um filme fresco e leve. Apesar de a história em si não chegar a nenhuma conclusão profunda à medida que o filme avança (nunca se percebe porque é que a vida de Marie avançou para o futuro), o filme ganha pontos com os pequenos detalhes. Em primeiro lugar, a Juliette Binoche é uma actriz brilhante e a personagem dela torna o filme muito mais interessante! Na verdade, o que gostei mais no filme foram as cenas engraçadas nas quais Marie tenta perceber o que é suposto fazer com a sua vida (como quando faz um jogo com o seu filho para perceber quem é ou quando pede à sua empregada para a ajudar a encontrar o seu carro)!
Não é um filme brilhante, mas se quiserem ter hora e meia de diversão, recomendo que o vejam!
| Français |
La vie d'une autre était l'un de ces films que j'ai accidentellement trouvé. Je n'ai jamais entendu parler de ce film jusqu'au moment qu'il soit devant mes yeux et j'ai décidé de le regarder. La bande annonce m'a incité de le regarder, mais il s'est révélé mieux que ce que ces presque deux minutes montrent!
La vie d'une autre est adapté d'un roman, qui raconte l'histoire de Marie (Juliette Binoche), une femme de carrière qui se trouve dans l'esprit d'une jeune fille de 25 ans, pour se réveiller quinze ans plus tard.
Marie fixe ses yeux en Paul (Mathieu Kassovitz) mais, le lendemain matin, quand elle sort de son lit, elle découvre l'avenir: pas seulement elle a été mariée à Paul tout ce temps, mails elle est maintenant mère d'un jeune garçon et aussi au milieu d'un divorce. Avec un grave cas d'amnésie, Marie essaie de comprendre sa vie en faisant tout pour sauver la vie qu'elle connaît.
La vie d'une autre est un film frais et léger. L'intrigue ne semble pas arriver à une conclusion profonde (vous n'arrivez jamais à comprendre pourquoi Marie est à l'avenir), mais le film gagne des points pour les petits détails. Tout d'abord, Juliette Binoche est une actrice brillante et son personnage fait le film plus intéressant! En fait, ce que j'ai aimé le plus dans ce film sont les scènes drôles dans lesquelles Marie essaie de trouver ce qu'elle doit faire avec sa vie (comme quand elle joue avec son fils pour savor qui elle est ou quand elle demande à sa femme de ménage pour l'aider à trouver à voiture)!
Ce n'est pas un film brillant, mais si vous voulez une demi-heure de plaisir, alors vous devez le regarder!