Cinémathèque
Cinémathèque: Paulette

I found out about Paulette when I was at the cinema and they passed the trailer for this movie. A french comedy movie? I immediatly knew I had to watch this!
Eu descobri o Paulette quando fui ao cinema e passaram o trailer deste filme. Um filme francês de comédia? Soube logo que tinha de o ver!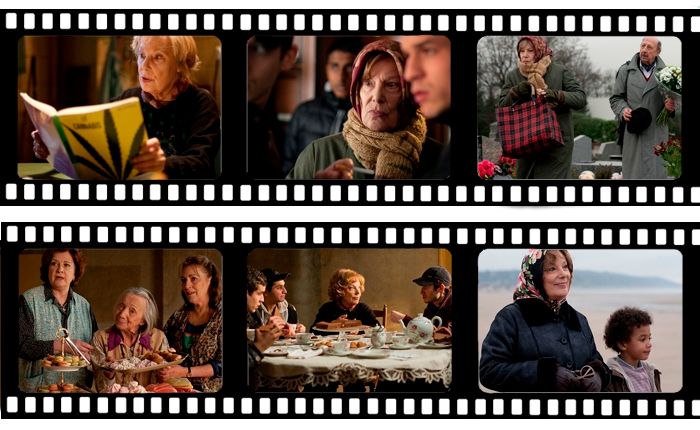 Paulette (Bernadette Lafont) is a lady who lives alone in the suburbs of Paris. After her husband's death ten years ago, she lost her restaurant and, with her meager pension, she can no longer afford to pay the bills. One evening, she witnesses an incident with the police outside of her building and ends up with a package of drug in her hands. Determined, she decides to start selling cannabis and, as a former pastry chef, she finds out original solutions in the conducting of her new business, quickly becoming one of the top drug dealers.
Paulette (Bernadette Lafont) é uma senhora que vive sozinha os subúrbios de Paris. Depois da morte do seu marido há dez anos, ela perdeu o seu restaurante e, com uma magra pensão, não consegue mais sequer pagar as contas. Uma tarde, ela presencia um incidente com a polícia perto do seu prédio e acaba com um pacote de droga em mãos. Determinada, decide começar a vender canábis e, como antiga chefe de pastelaria, descobre soluções originais para conduzir o seu novo negócio, rapidamente se tornando um dos melhores vendedores de droga.
Paulette
is such a funny movie! It definitely will make you spend a good moment, watching the misadventures of an old lady who decides to put all her efforts into a new business, while confessing the origin of her money not only to her friends but also to the local priest, having to face the traditional dealers who see her as a threat and trying to strength the bonds with her family! You will definitely enjoy watching this!
A minha classificação: 3/5
Paulette
é um filme tão engraçado! Definitivamente faz-vos passar um bom momento, a ver as desaventuras de uma senhora que decide colocar todos os seus esforços no seu novo negócio, confessando a origem do seu dinheiro não só às suas amigas, mas também ao padre local, tendo de enfrentar os vendedores tradicionais que a vêem como uma ameaça e tentando estreitar os laços com a sua família! Vão mesmo gostar de ver este filme!
| Français |
J'ai découvert Paulette quand j'étais un cinéma et ils ont passé la bance-annonce de ce film. Un film de comédie française? J'ai immédiatement su que je devais regarder ça!
Paulette (Bernadette Lafont) est une femme qui vit seule dans la banlieue de Paris. Après la morte de son mari il y a dix anos, elle a perdu son restaurant et, avec sa maigre pension, elle ne peut plus payer les factures. Une soir, elle est témoine d'un incident avec la police à l'extérieur de son immeuble et trouve un paquet de drogue dans ses mains. Déterminée, elle décide de commencer á vendre du cannabis et, en tant qu'ancienne chef pâtissier, elle découvre des solutions originales pour conduire sa nouvelle entreprise, en devenant rapidement l'un des meilleurs revendeurs de drogue.
Ma note: 3/5
Paulette est un drôle de film! Il va certainement vous faire passer un bon moment, en regardant les aventures d'une vieille femme qui décide de mettre tous ses efforts dans sa nouvelle entreprise, en confessant l'origine de son argent pas seulement à ses amis, mais aussi au curé local, en ayant de faire face aux revendeurs de drogue traditionels qui la voient comme une menace et en essayant de renforcer les liens avec sa familles! Vous aurez certainement plaisir à regarder ce film!