Friday Favourites
Friday Favourites #31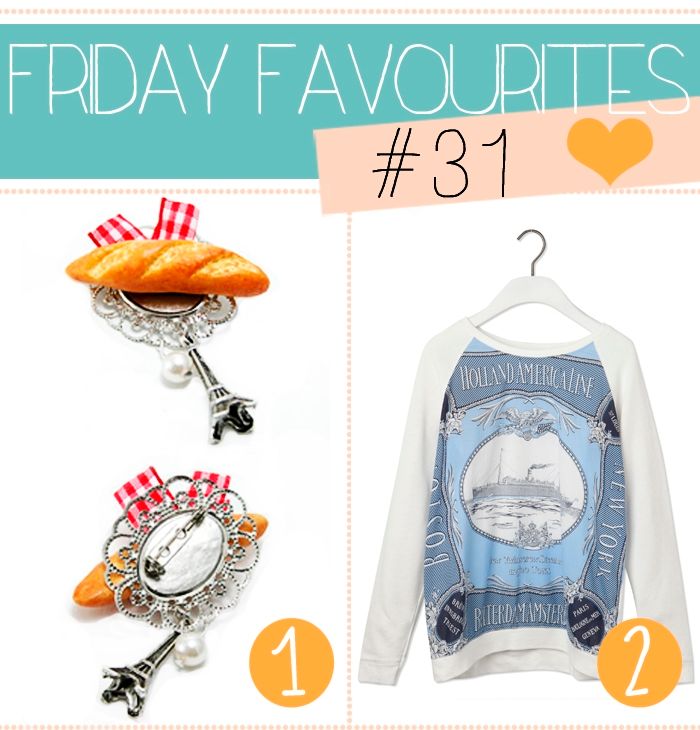 ♥
One of the things in which you can see my french side is my love for bread. I absolutely couldn't live without bread and if we're talking about a baguette, then I can clearly confess I love it! This brooch it the sweetest thing ever, I'd be able to showcase my love for french bread everywhere I'd go!
Uma das coisas na qual o meu lado francês se manifesta é a minha paixão por pão. Nunca poderia viver sem pão e, se estivermos a falar de baguettes, então posso claramente confessar que adoro! Esta pregadeira é super querida, ia poder mostrar o meu amor por pão francês onde quer que fosse!
♥
I saw this sweater from Pull&Bear once at the shopping center at the storefront and I immediatly got back to take a better look at it! Isn't it the most perfect thing? I am still trying to convince myself I definitely don't need to spend 23€ in a print shirt as I need to rather invest in basic pieces but I am having a hard time trying to think of good reasons not to bring this home with me!
Vi esta camisola na Pull&Bear quando estava num centro comercial na montra e voltei imediatamente atrás para a ver melhor! Não é perfeita? Ainda me estou a tentar convencer de que não preciso gastar 23€ numa camisola estampada e que devia investir em peças mais básicas, mas estou a ter dificuldade em pensar em boas razões para não a trazer para casa comigo!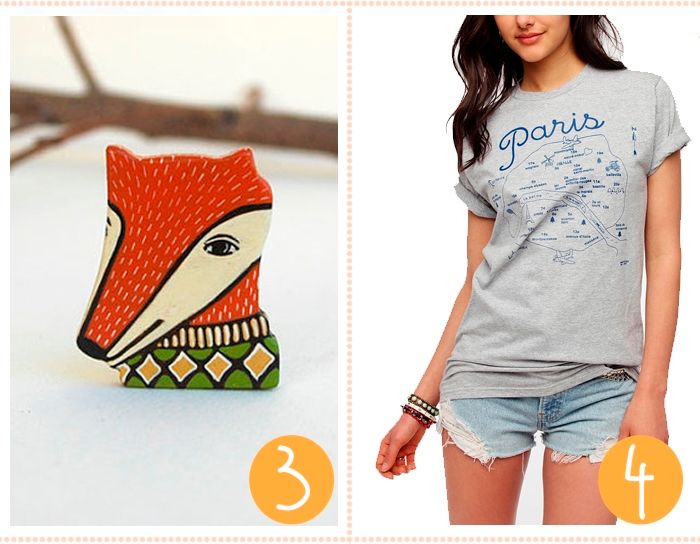 ♥
I absolutely love handmade brooches and this one is no exception! How lovely is the shape of the cut and the bold colours? Be sure to check the rest of the shop, they have amazing things!
Eu adoro pregadeiras feitas à mão e esta não é excepção! Quão adoráveis são a forma do corte e as cores fortes? Vão ver o resto da loja, têm coisas fantásticas!
♥
I have seen plenty of Paris city map inspired tees but they always end up having a confusing design so I was so pleased when I saw this one! Rather than having a big map or the subway lines, it showcases the most interesting points in the city!
Já vi muitas t-shirts com mapas da cidade de Paris, mas acabam sempre por ter designs confusos, por isso fiquei muito contente quando vi esta! Em vez de ter um mapa grande ou as linhas do metro, mostra os pontos mais interessantes da cidade!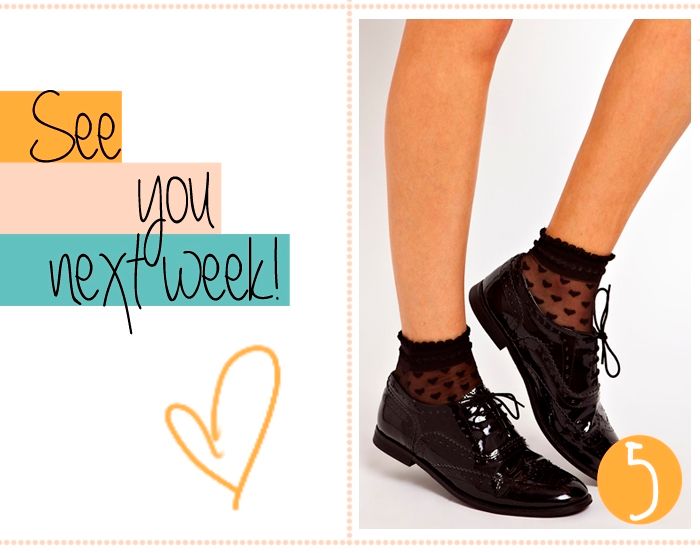 ♥
I am really crazy for anything with an heart print so I was blown away when I saw these cute socks! I don't like wearing tights in Summer but I am thinking these would be a great choice to pair with my dresses! Love it!
Eu sou mesmo doida por o que quer que tenha um padrão de corações, por isso fiquei fascinada quando vi estas meias adoráveis! Não gosto de usar collants no Verão, mas acho que estas meias seriam uma óptima escolha para combinar com os meus vestidos! Adoro!
| Français |
1. Une des choses dont vous pouvez voir mon côté français, c'est mon amour pour le pain. Je ne pouvais absolument pas vivre sans pain et, si nous parlons d'une baguette, alors je peux bien avouer que je l'aime! Cette broche est la chose la plus mignonne, je pourrai montrer mon amour pour le pan français partout j'y irais!
2. J'ai vu ce pull de Pull&Bear une fois au shopping à la vitrine et je suis rentré immédiatement à prendre un meilleur regard! C'est parfait, vrai? J'essaie toujours de me convaincre que je n'ai pas besoin de dépenser 23€ dans une chemise et que j'ai besoin d'investir plutôt dans des vêtements essentiels, mais je trouve difficile de penser à bonnes raisons pour ne pas l'apporter chez moi!
3. J'adore des broches faits à la main et celui-ci n'est pas une exception! La forme de la coupe et les couleurs vives sont très belles! N'oublie pas de voir le reste de la boutique, il a des choses étonnantes!
4. J'ai vu plusieurs t-shirts inspirés dans la carte de la ville de Paris, mais ils ont toujours un design confuse donc j'etais tellement heureuse quand j'ai vu celui-ci! Plutôt que d'avoir une grande carte ou les lignes de métro, il présente les points les plus intéressants de la ville!
5. Je suis vraiment fou pour quelque chose qui a un coeur donc j'étais émerveillée quand j'ai vu ces chaussettes mignonnes! Je n'aime pas porter des collants en été, mais je pense que celles-ci seraient un excellent choix avec mes robes! Je l'aime!