Friday Favourites
Friday Favourites #32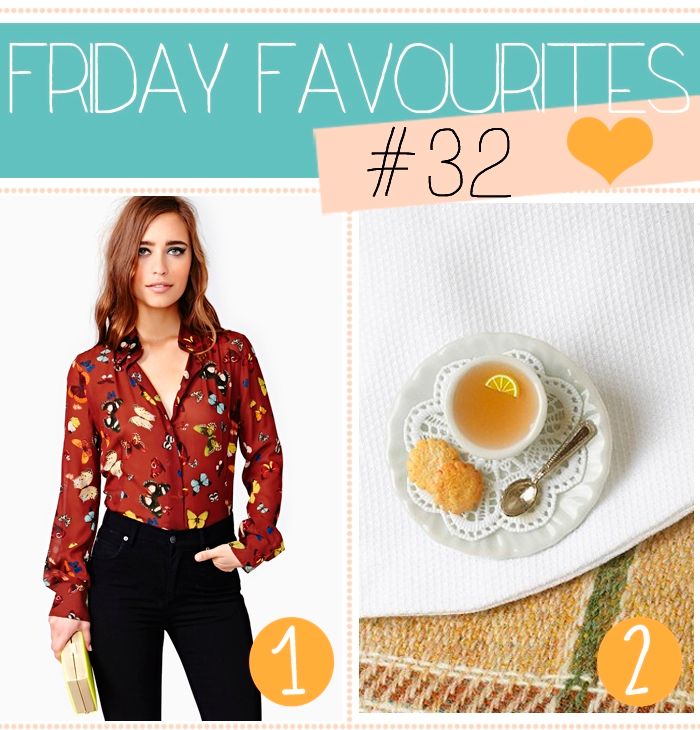 ♥
Okay, first of all, let me tell you I am by no way a person with an expensive taste. I don't need expensive brands to be happy, actually I prefer to spend the little money I have in cheaper shops and don't complain about it. But every now and then I see something way expensive that I love and, regardless of the price, a girl can dream, right? This blouse is exactly the case! I love butterflies so when I saw this blouse I immediatly fell in love with it, until the moment I noticed it's Dolce&Gabanna! Oh well, I'm daydreaming!
Okay, em primeiro lugar, deixem-me dizer-vos que eu não sou de todo uma pessoa com um gosto caro. Eu não preciso de marcas caras para ser feliz, na verdade prefiro usar o pouco dinheiro que tenho em lojas mais baratas e não me queixo disso. Mas de vez em quando vejo algo demasiado caro que adoro e, apesar do preço, posso sempre sonhar, certo? Esta blusa é exactamente o caso! Adoro borboletas, por isso quando vi esta blusa apaixonei-me imediatamente por ela, até ao momento em que reparei que é Dolce&Gabanna! Oh bem, vou sonhar acordada!
♥
I love quirky brooches so of course I got super excited when I saw this one! I often see jewelry with teacups, cookies and such but this one has to be one of the best ever! The design is gorgeous and I am amazed with the little details! This is definitely on my wishlist!
Eu adoro pregadeiras peculiares, por isso é claro que fiquei entusiasmada quando vi esta! Eu vejo bijuteria com chávenas, bolachas e coisas semelhantes frequentemente, mas esta tem de ser a melhor de sempre! O design é fantástico e estou fascinada com os pequenos detalhes! Está definitivamente na minha wishlist!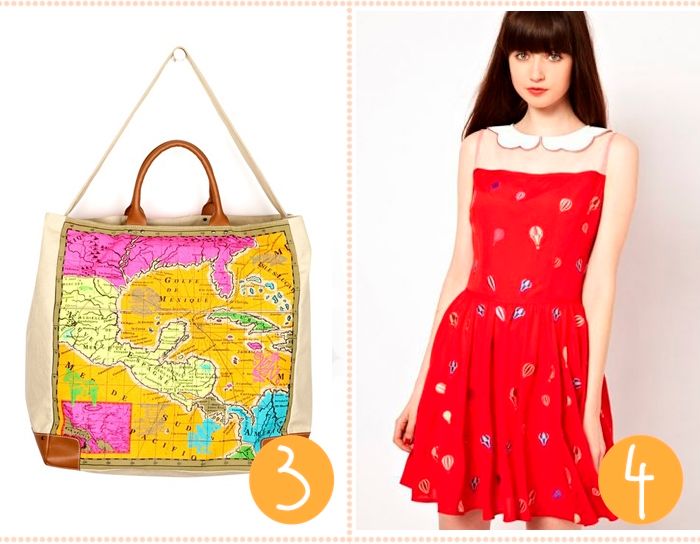 | 3.
'Map of Mexico' Tote Bag
| 4.
Balloon Print Dress
|
♥
I know what you may be thinking, another thing with a map? I know, I'm a bit obssessed with map prints, they just have such an appealing effect on me!
This bag is different from the others I usually see, not only it features a map of Mexico, but also a very colourful one! So damn amazing!
Eu sei o que devem estar a pensar, outra coisa com um mapa? Eu sei, sou um bocado obcecada com padrões de mapas, têm um efeito apelativo em mim!
Esta mala é diferente das outras que normalmente vejo, não só mostra um mapa do México, como um muito colorido! Tão fantástica!
♥
Okay, I have to confess I completely freaked out when I found out this dress! This has to be one of my favourite things lately, it is so pretty! You already know how I love cute prints so finding out a dress with balloons all over... I'm swooning!! Can someone please deliver this at my door?
Okay, tenho de confessar que endoideci quando vi este vestido! Tem de ser uma das minhas coisas preferidas ultimamente, é tão bonito! Vocês já sabem como eu adoro padrões giros, por isso encontrar um vestido com balões a toda a volta... Adoro!! Alguém pode entregá-lo à minha porta, por favor?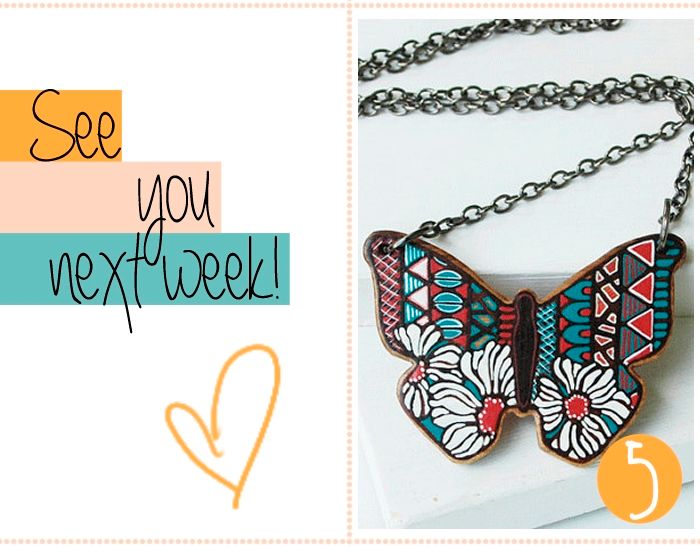 ♥
I know I have already shared a fox brooch from this very same handmade shop but I couldn't help but posting here this gorgeous butterfly necklace as well! Isn't it just beautiful? I love the way it was painted, the white flowers are so beautiful! Perfect necklace!
Eu sei que já partilhei aqui uma pregadeira com uma raposa desta mesma loja, mas não podia deixar de partilhar aqui este colar com uma borboleta lindíssimo também! Não é bonito? Adoro a forma como foi pintado, as flores brancas são tão lindas! Colar perfeito!
| Français |
1. Okay, tout d'abord, permettez-moi de vous dire que je ne suis pas d'aucune façon une personne avec un goût cher. Je n'ai pas besoin de marques chères pour être heureuse, en fait, je préfère dépenser le peu d'argent que j'ai dans les magasins moins chers et je ne le regrette pas. Mais parfois je vois quelque chose chère que j'adore et, malgré le prix, une fille peut rêver, ne c'est pas? Cette blouse est exactement le cas! J'aime des papillons donc quand j'ai vu cette blouse j'étais immédiatement amoureuse d'elle, jusqu'au moment où j'ai remarqué que c'est Dolce&Gabanna! Eh bien, je réve!
2. J'adore des broches excentriques, alors bien sûr que j'étais super heureuse quand j'ai vu celle-ci! Je vois souvent des bijoux avec des tasses à thé, des biscuits, etc, mais celle-ci doit être l'un des meilleurs que j'ai vu! Le design est magnifique et je suis étonné par les petits détails! C'est certainement sur ma wishlist!
3. Je sais qu'est-ce que vous pensez, un autre chose avec une carte? Je sais, je suis un peu obsédée par gravures des cartes, ils ont un effet attrayant sur moi!
Ce sac est différent des autres que je vois habituellement, pas seulement car il montre une carte du Mexique, mais aussi une três colorée! Incroyable!
4. Okay, je dois avouer que j'ai complètement flippé quand j'ai découvert cette robe! C'est peut-être l'une de mes choses préférées récemment, elle est trop jolie! Vous savez déjà comme j'aime des prints mignons donc trouver une robe avec des ballons partout... je suis amoureuse! Est-ce que quelqu'un peut s'il vous plaît le livrer à ma porte?
5. Je sais que j'ai déjà partagé une broche avec un renard de cette même boutique, mais je ne pouvais pas m'empêcher de publier ici ce collier avec une papillon aussi magnifique! C'est beau, non? J'aime la façon dont il a été peint, les fleurs blanches sont belles! Un collier parfait!