Fashion
I came to love you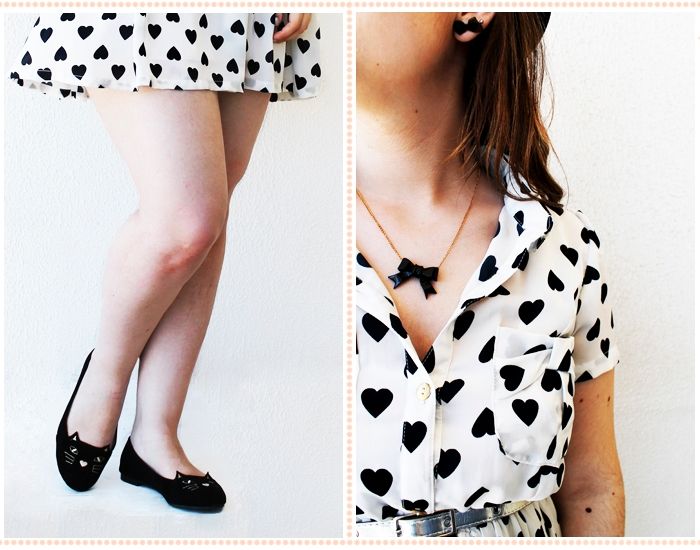 Dress

Vestido

: Shana | Hat

Chapéu

: c/o THBoxes
(available here disponível aqui)
| Necklace

Colar

: c/o Sophie Thomson Designs | Earrings

Brincos

: Parfois | Bag

Mala

: c/o Romwe
(available here
disponível aqui
)
| Shoes

Sapatos

: Lovely Wholesale
(available here
disponível aqui
)
This has to be the most beautiful dress I own (at least from my viewpoint, of a person who is crazy for heart prints) and, although I have shown it a couple of times here on the blog, I have always layered it so this is the first time you're watching it in its complete beauty.
I remember when I bought it, it has to be one of those moments I remember clearly because I've been looking for a dress like this for ages and when I found it I knew it had to be mine! It was a sheer dress so it has now a lining and it's absolutely perfect the way it is! You can be sure this is one of the pieces of clothing I will always cherish, I love it! To go along with the bows in the pockets of the dress, I added a matching necklace and earrings! This has to be my perfect Summer outfit!
Este é um dos vestidos mais bonitos que eu tenho (pelo menos do meu ponto de vista, de uma pessoa que adora padrões de corações) e, apesar de já o ter mostrado aqui no blog algumas vezes, sempre o usei em camdas, por isso esta é a primeira vez que o estão a ver em toda a sua beleza. Eu lembro-me de quando o comprei, deve ser um daqueles momentos de que me lembro claramente porque queria um vestido assim há imenso tempo e quando o encontrei soube que tinha de ser meu! Era um vestido transparente, por isso agora tem um forro e é absolutamente perfeito da forma que está! Podem ter a certeza de que esta é uma das peças de roupa que irei sempre acarinhar, adoro-o! Para combinar com os laços dos bolsos do vestido, adicionei um colar e brincos a condizer! Este é o meu outfit perfeito para o Verão!
♥