Personal - I've graduated!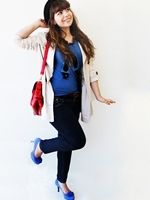 Okay, first of all, let me say I've been delaying writting this post over and over but, finally, here it is...
It's official: I'VE GRADUATED! It still seems a bit strange to pronounce these words but it is truth, I hold now a Bachelor Degree in International Relations!
Of course, I had to share this conquest with you, my blog readers, specially because my blog has accompanied me all along the way! I've created this blog just after starting my first year at the university so this was also the space where I share a bit of what I went through (even though I didn't focus that much on my academic life, you could say my blog is a part of it!).
Three years ago I'd never imagine myself at the point in which I am now... I know this sounds silly, I mean, I knew I'd be graduating but I guess I always had that feeling it would take too long and suddenly I just finished my degree! Here comes the scary feeling... I am 20 and I already hold a BA!
Okay, em primeiro lugar deixem-me dizer-vos que tenho andado a adiar escrever este post e uma e outra vez, mas finalmente aqui está...
É oficial: LICENCIEI-ME! Ainda soa um pouco estranho pronunciar estas palavras, mas é verdade, já tenho uma licenciatura em Relações Internacionais!
É claro, tinha que partilhar esta conquista convosco, os meus leitores do blog, especialmente porque este blog me acompanhou durante todo o percurso! Eu criei este blog logo depois de começar o meu primeiro ano na universidade, por isso este foi também o espaço onde partilhei um pouco do que foi acontecendo (apesar de eu não me ter focado muito na minha vida académica, pode-se dizer que o blog foi parte dela!).
Três anos depois, nunca imaginei estar no ponto em que estou agora... eu sei que isto soa parvo, quer dizer, é claro que eu sabia que me ia licenciar, mas suponho que sempre tive aquela sensação de que ia demorar demasiado tempo e de repente acabei o curso! Aqui vem o sentimento assustador... tenho 20 anos e uma licenciatura!
I've graduated in June and I swear a month later I can already feel the stomachaches, the nights turning around in bed because my mind won't stop thinking of what I am going to do next... For those of you who may not be aware, Portugal is currently going through a deep economic crisis and our unemployment is raising to levels we haven't seen in a very long time! I remember when I started my degree I thought the situation was pretty rough but, three years later, I can only see it got worse! I'm not sure anyone out there can relate to my feelings... I mean, it is already scary to finish your student's life but in such a situation, I think my fears just get bigger and bigger. For now, I don't think I will continue my studies. As much as everyone seems to be criticising my decision, I can not imagine myself at 23 having a Masters Degree and no experience at all... if getting a job right now will be a hard task, I think it would be even harder in such a situation.
Licenciei-me em Junho e juro que um mês depois já sinto aquelas dores de barriga, as noites às voltas na cama, porque a minha cabeça não pára de pensar no que vou fazer a seguir... Para quem não vive em Portugal e talvez não saiba, o país está de momento a atravessar uma crise económica grave e o nosso desemprego está a atingir níveis que já não se viam há muito tempo! Lembro-me de que quando comecei o curso pensei que a situação estava má, mas, três anos depois, só consigo ver que ficou pior! Não sei se alguém se consegue relacionar com o que eu sinto... quer dizer, já é assustador terminar a vida de estudante, mas nesta situação, os meus receios só aumentam mais e mais. Por agora, acho que não vou continuar os meus estudos. Por muito que todos pareçam criticar a minha decisão, não me consigo imaginar aos 23 com um Mestrado e sem experiência... se conseguir um emprego agora já parece uma tarefa difícil, penso que seria ainda mais difícil nessa situação.
This being said, I must confess I don't know where to turn, after all, I'm a huge dreamer and I doubt I will ever be able to work at something I don't love at all or that makes me miserable. I had a couple of options I wanted to pursue but it seems I'm leaving them behind (like keeping my language studies, specially German, though courses are so expensive I can't afford them!) so I guess I will just try something else. I have a few dreams I'd love to fullfil when it comes to work but for now I am definitely not feeling like revealing anything at all as I think I'll probably end up jinxing myself!
I suppose right now I just feel as confused as I never felt before in my life, how did I get to the point of being 20 and having to make such decisions? Does anyone out there felt the same way when graduating? I guess I should be all butterflies on my stomach (I can't say I haven't felt joy in graduating! haha) but sometimes these thoughts on my future just hit me deeply!
Another phase of my life has just been completed, onwards to whatever is coming, wherever I may roam!
Dito isto, tenho que confessar que não sei para onde me virar, afinal, sou uma enorme sonhadora e duvido que alguma vez consiga trabalhar em algo que não gosto de todo ou que me faz sentir infeliz. Tinha algumas opções que queria seguir, mas parece que as vou deixar para trás (tais como continuar os meus estudos de línguas, principalmente de Alemão, mas todos os cursos são super caros!), por isso acho que vou tentar outras coisas. Tenho alguns sonhos que gostava de realizar no que respeita a empregos, mas por agora não revelo nada, já que provavelmente ainda acaba por ser mau agoiro!
Suponho que de momento sinto-me confusa como nunca me senti antes na minha vida, como é que cheguei ao ponto de ter 20 anos e ter de tomar estas decisões? Mais alguém se sentiu da mesma forma quando se licenciou? Suponho que deveria ter borboletas na barriga (não posso dizer que não tenha ficado feliz por me licenciar! haha), mas às vezes estes pensamentos sobre o futuro atingem-me com força!
Outra fase da minha vida foi completada, agora vou em direcção ao que quer que venha, aonde quer que eu vá!
| Français |
Okay, tout d'abord, permettez-moi de vous dire que j'ai retardé d'écrire cette publication plusieurs fois, mais, finalement, c'est ici...
C'est officiel: J'ai mon diplôme! Il semble encore un peu étrange de prononcer ces mots, mais c'est la vérité, je détiens maintenant une licence en Relations Internationales!
Bien sûr, je dois partager cette conquête avec vous, les lecteurs de mon blog, spécialement car mon blog m'a accompagné au long de cette étape! J'ai créé ce blog juste après le début de ma première année à l'université, donc c'était aussi l'espace où je partage un peu de ce que j'ai vécu (même si je n'ai pas parlé beaucoup de ma vie universitaire, vous pouvez dire que mon blog était une parti de celle-ci!).
Il y a trois ans, je ne pourrai pas m'imaginer au point que je suis maintenant... je sais que cela peut paraître drôle, bien sûr que je savais que j'aurai mon diplôme, mais j'ai eu toujours ce sentiment que cela prendra trop de temps et, tout de suite, je viens d'obtennir mon diplôme! Voilà le sentiment effrayant... j'ai 20 ans et je détiens déjà une licence!
Je suis graduée en juin et, un mois plus tard, je vous jure que je peux déjà sentir le mal au ventre et les nuits sans dormir parce que mon esprit ne cesse de penser à ce que je vais faire à l'avenir... Pour ceux qui ne le sauraient pas, le Portugal traverse maintenant une crise économique profonde et notre taux de chômage s'est soulevé des niveaux que nous n'avons pas vu depuis longtemps! Je me souviens que, quand j'ai commencé mes études, je pensais que la situation était assez mauvaise, mais, trois ans plus tard, je peux voir qu'elle est pire!
Je ne suis pas sûr se quelqu'un peut se rapporter à mes sentiments... c'est-à-dire, il est déjà effrayant de terminer nos études, mais dans une telle situation, je pense que ma peur devient plus grande. Maintenant, je ne pense pas que je vais continuer mes études. Même si tout le monde semble critiquer ma décision, je ne peux pas m'imaginer à 23 ans avec un master et aucune expérience du tout... si obtennir un emploi en ce moment sera déjà difficile, je pense qu'il serait encore plus difficile dans celle situation.
De cette façon, je dois avouer que je ne sais pas vers où me tourner, en fait, je suis une grande rêveuse et je doute que je serai jamais capable de travailler à quelque chose que je n'aime pas du tout ou que me fait sentir malheureuse. J'ai eu des options que je voulais suivre, mais il semble que je les abandonne (comme continuer mes études de langues, spécialement l'allemand, cars les cours sont très chers), donc je suppose que je vais juste essayer d'autres choses. J'ai quelques rêves que j'aimerai réaliser quand il s'agit d'un emploi, mais maintenant je ne le vais pas révéler, ça peut me porter malheur!
Je suppose que maintenant je me sens le plus confuse que je m'ai jamais senti dans ma vie, comment est-ce que j'ai 20 ans et je dois prendre ces décisions? Est-ce que quelqu'un s'est senti comme moi en recevant son diplôme? Je suppose que je devrais être heureuse (bien sûr que je suis un peu), mais parfois ces pensées sur mon avenir m'affectent profondément!
Une autre phase de ma vie vient de se terminer, alors je vais en direction à l'avenir, n'importe où j'aille!