Fashion
Ripping wings off of butterflies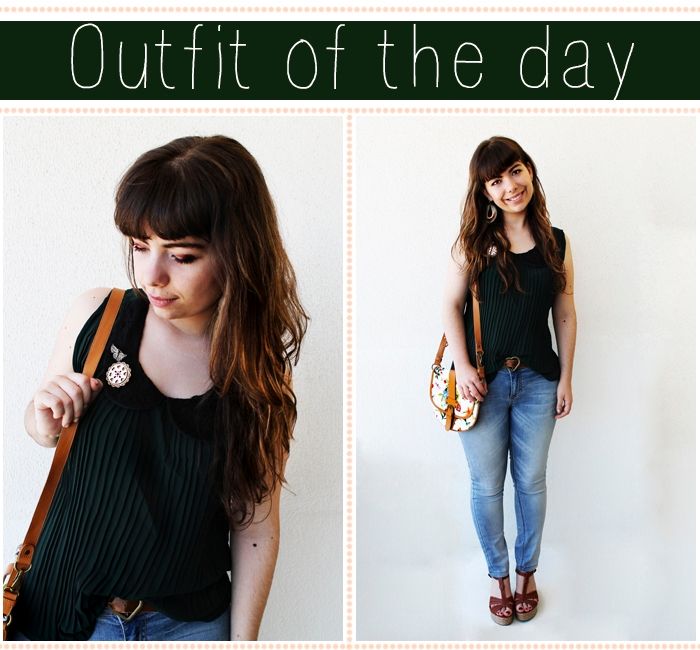 Top: c/o thecolorIS| Jeans

Calças de ganga

: Lanidor | Bag

Mala

: Aldo | Belt

Cinto

: c/o Hello Blogshop | Butterfly Brooch

Pregadeira borboleta

: Vintage | Doily brooch

Pregadeira redonda

: c/o Under the Shade of a Bonsai Tree | Shoes

Sapatos

: New Code
When it starts getting hot, my imagination starts lacking a little bit. The reason? I absolutely love layering clothing and when Summer comes, I hardly do it at all so I get a bit bored at using my clothes. Still, I try to keep in mind that motto of "less is more" (which usually doesn't work out for me!) and every now and then I get surprised with what I can pull off. This outfit is definitely one of those times! I definitely love mixing browns and greens so I tried to keep myself in these tones and add some little details to spice my outfit a little bit!
Quando começa a ficar quente, a minha imaginação começa a falhar um pouco. A razão? Eu adoro usar roupa em camadas e, quando chega o Verão, não o faço de todo, por isso fico um bocado aborrecida no que respeita a usar a minha roupa. Ainda assim, tento ter em mente o lema "mais é menos" (o que normalmente não funciona muito bem para mim!) e de vez em quando até fico surpreendida com o que consigo criar. Este outfit é uma dessas alturas! Definitivamente adoro misturar castanhos e verdes, por isso tentei manter-me nestes tons e adicionar alguns detalhes para animar o meu outfit um bocadinho!
♥
| Français |
Quand il commence à faire chaud, je manque un peu de l'imagination. La raison? J'adore la superposition des vêtements et quand l'été arrive, je ne peux pas le faire donc je suis un peu ennuyée à utiliser mes vêtements. Pourtant, j'essaie de me rappeler de la devise «moins est plus» (qui généralement ne fonctionne pas pour moi!) et parfois je suis surpris! Cet outfit est certainement l'un de ces moments! J'aime vraiment la mélange de bruns et de verts, donc j'ai essayé de me tenir dans ces tons et ajouter quelques petits détails pour améliorer un peu mon outfit!