Fashion
Tutti Frutti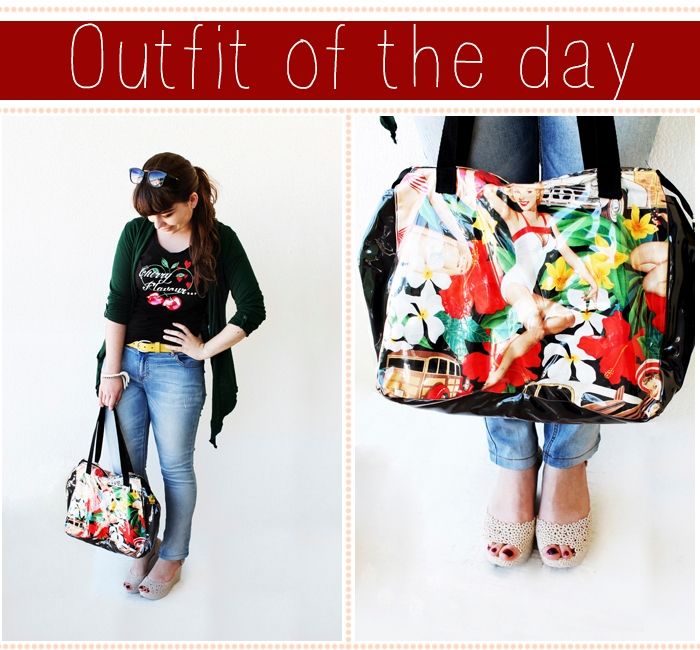 T-shirt: Tally Weijl | Jeans

Calças de Ganga

: Lanidor | Cardigan

Casaco

: Lanidor | Sunglasses

Óculos de sol

: c/o Firmoo
(available here disponíveis aqui)
| Belt

Cinto

: Lanidor | Bracelet

Pulseira

: c/o Shop Swear | Shoes

Sapatos

: c/o Romwe
I've owned this gorgeous oversized bag with a pin-up print for many years now and up to today is one of those things I can't let go off! When I was in high school I used it to carry my stuff for my swimming classes (okay, it may be a bit too obvious but of course a bag with a pin-up in a swimsuit seemed perfect to me!) and it has always seen many different uses. It is amazing when I need to carry a lot of things with me which was the case this day, also because it seemed to perfectly match my also already old tee. I know I've been talking about my t-shirt collection for ages so I promise I'll start showing off my beauties in the future a lot, pay attention!
Já tenho esta fantástica mala grande com um padrão de uma pin-up há muitos anos e até hoje é uma daquelas coisas das quais não me consigo desfazer! Quando estava no secundário usava-a para carregar as minhas coisas para as aulas de natação (okay, talvez seja um bocado óbvio, mas é claro que uma mala com uma pin-up num fato-de-banho me pareceu perfeita!) e tem sempre visto muitos usos diferentes. É fantástica quando preciso de carregar muitas coisas comigo, o que era o caso neste dia, além de que parecia combinar na perfeição com esta também já velha t-shirt. Eu sei que tenho falado muito da minha colecção de t-shirts, mas prometo que vou começar a mostrar imenso no futuro as t-shirts lindas que tenho, prestem atenção!
| Français |
T-shirt:
Tally Weijl |
Jeans:
Lanidor |
Cardigan:
Lanidor |
Lunettes de soleil:
c/o
Firmoo
(disponibles ici)
| Ceinture: Lanidor | Bracelet: c/o Shop Swear | Chaussures: c/o Romwe
J'ai possédé ce sac géant magnifique avec une pin-up imprimée depuis plusieurs années et jusqu'à aujourd'hui c'est une de ces choses que je ne peux pas lâcher prise! Quand j'étais au lycée, je l'utilisais pour transporter mes affaires pour mes cours de natation (bon, d'accord, il peut être un petit peu évident, mais, bien sûr, un sac avec une pin-up en maillot de bain semblait parfait pour moi!) et il a toujours vu de nombreux usages différents. Il est incroyable, quand j'ai besoin de transporter beaucoup de choses avec moi, qui était le cas ce jour-là, aussi parce qu'il semblait correspondre parfaitement à mon également déjà vieux t-shirt. Je sais que je vous ai parlé de ma collection de t-shirts depuis longtemps et je vous promets que je vais commencer à montrer mes beautés beaucoup à l'avenir, faites attention!
♥