Fashion
Blue Suede Shoes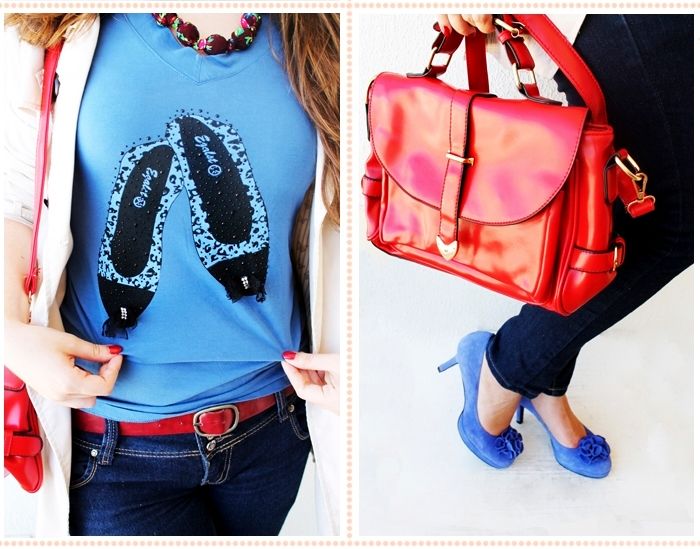 Hat

Chapéu

: c/o THBoxes
(available here disponível aqui)
| Trench: Stradivarius | Bag

Mala

: c/o Romwe
(available here disponível aqui)
| Shoes

Sapatos

: Zilian
Sometimes, those things you consider as flaws may turn up to be an advantage! I consider myself to have big feet (I could label myself as a 38.5) and I usually hate it but I just recently inherited a pair of shoes because of it!
My sister bought these shoes a while ago and since then she had two surgeries to her feet and downsized a number so these beauties were never used... until she gave them to me recently and I fell in love with them! Say hello to my blue shoes (which happened to perfectly match this tee I had)!
For this outfit I decided to pick tones of red and blue so it was also the perfect opportunity to wear this gorgeous necklace I got from Poland as a gift from my friend Madie! Thanks, sweetie!
P.S. - If you're looking at my strange pose, you can also blame it on my sister. She forced me to do it (no, I wasn't in any way harmed, but she can be very persuasive! haha)
Às vezes, aquelas coisas que consideramos como defeitos podem bem tornar-se uma avantagem! Eu considero que tenho pés grandes (catalogava-me como um 38.5) e normalmente odeio-o, mas recentemente herdei um par de sapatos por causa disso!
A minha irmã comprou estes sapatos há algum tempo e desde então teve dois operações ao pé, pelo que acabou por reduzir um tamanho, por isso estas belezas nunca foram usadas... até ela me ter dados estes sapatos recentemente e eu me ter apaixonado por eles! Digam olá ao meus sapatos azuis (que por acaso combinavam perfeitamente com esta t-shirt que eu tinha)!
Para este outfit decidi escolher tons de vermelho e azul, por isso também foi a oportunidade perfeita para usar este colar maravilhoso que recebi da Polónia como prenda da minha amiga Madie! Obrigada, querida!
P.S. - Se estiverem a olhar para a minha pose estranha, também podem culpar a minha irmã. Ela obrigou-me a fazê-la (não, não houve recurso à violência, mas ela consegue ser muito persuasiva! haha)
♥
| Français |
Chapeau:
c/o THBoxes (disponible ici) | Trench: Stradivarius | Sac: c/o Romwe
(disponible ici)
| Chaussures: Zilian
Parfois, ces choses qu'on considère comme des défauts peuvent se tourner dans un avantage! Je considère que j'ai de grands pieds (je pourrais me qualifier comme un 38.5) et normalement je déteste cela, mais j'ai récemment hérité une paire de chaussures à cause de cela!
Ma soeur a acheté ces chaussures il y a longtemps et, depuis, elle a eu deux chirurgies à ses pieds et réduite une taille de chaussures donc ces beautés n'ont jamais été utilisés... jusqu'au moment qu'elle me les a donné et je suis tombée amoureuse d'eux! Dites bonjour à mes chaussures bleues (qui correspondent parfaitement avec ce t-shirt que j'avais)!
Pour cette tenue, j'ai décidé de choisir des tons de rouge et de bleu, donc c'était aussi l'occasion idéale pour porter ce magnifique collier que j'ai eu comme cadeau de la Pologne de mon amie Madie! Merci, ma chérie!
P.S. - Si vous regardez mon étrange pose, vous pouvez également le blâme sur ma soeur. Elle m'a forcé à le faire (non, je n'étais pas blessée, mais elle peut être très persuasive! haha)