Cinémathèque
Cinémathèque: La môme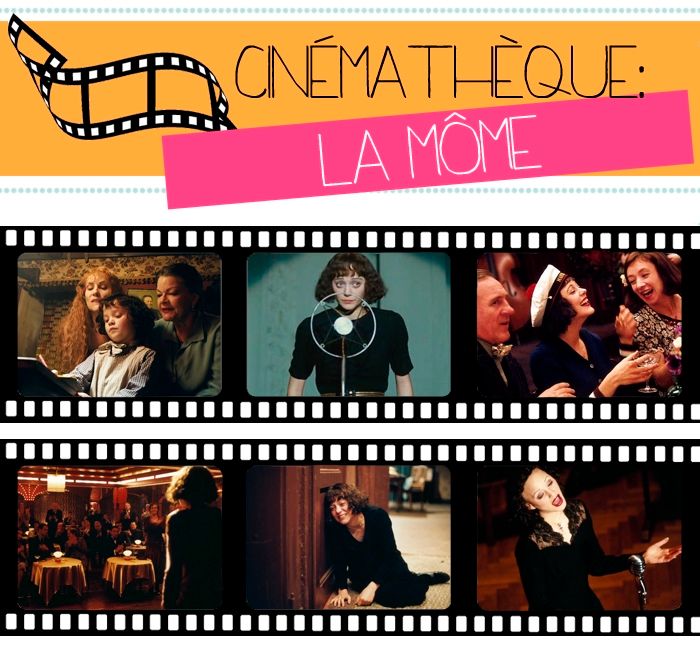 La môme was one of those movies that had been in my "must watch" list for far too long! Recently, I was at my parent's so I knew it was the perfect opportunity to sit down and watch this movie with my mom, who happens to love Piaf's music!
La môme é um daqueles filmes que estava na minha lista de filmes para ver há demasiado tempo! Recentemente, estive em casa dos meus pais, por isso soube que tinha a oportunidade perfeita para me sentar e ver este filme com a minha mãe que adora a música de Piaf!
La môme is a movie that tells the story of the singer Édith Piaf, from her childhood to her death.
Born in Paris, Édith (Marion Cotillard - De rouille et d'os) had a very hard to conquer success as a singer in her country. After many years on the road, she ended up being discovered by Louis Leplée (Gérard Depardieu), a talent seeker who gave her the name of «La môme Piaf» (little bird) and gave her the opportunity to sing. Her voice conquered Paris and quickly Édith Piaf started being recognised by all Europe, even though sucess didn't brought her happyness and didn't seem to fulfil her life.
La môme é um filme que conta a história da cantora Édith Piaf, da sua infância à sua morte.
Nascida em Paris, Édith (Marion Cotillard - De rouille et d'os) teve dificuldade em conquistar sucesso como cantora no seu país. Depois de muitos anos na estrada, acabou por ser descoberta por Louis Leplée (Gérard Depardieu), um caça-talentos que a apelidou de «La môme Piad» (passarinho) e lhe deu a oportunidade de cantar. A sua voz conquistou Paris e rapidamente Édith Piaf começou a ser reconhecida por toda a Europa, ainda que o seu sucesso não lhe tenha trazido felicidade e não parecesse completar a sua vida.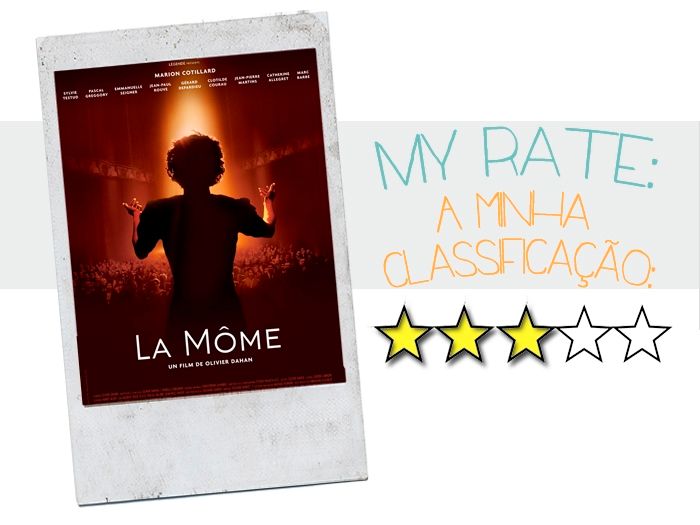 La môme is such a great movie! It gives you a great insight on the life of the famous singer Édith Piaf, in order to know better the person behind the voice!
I have to say the best of this movie is definitely the acting of Marion Cotillard, who is unrecognisable and portrays Édith Piaf so well! Although this movie isn't very much my type, I actually enjoyed it! It shows a quite dark but real side of Piaf with her addiction to alcohol and drugs but at the same time it shows what she went through to become a successful singer! I recommend it!
A minha classificação: 3/5
La môme é um filme muito bom! Dá-vos uma introspecção à vida da famosa cantora Édith Piaf, por forma a se conhecer melhor a pessoa por trás da voz! Tenho que dizer que o melhor deste filme é definitivamente a representação da Marion Cotillard, que está irreconhecível e que retrata a Édith Piaf tão bem! Apesar deste filme não ser muito o meu estilo, até gostei! Mostra um lado bem sombrio mas real de Piaf com o seu vício em álcool e drogas, mas ao mesmo tempo mostra o que ela passou para se tornar uma cantora bem sucedida! Recomendo!
| Français |
La môme était un de ces films qui a été dans ma liste pour regarder depuis longtemps! Récemment, j'étais chez mes parents, donc je savais que c'était l'occasion idéale pour m'asseoir et regarder ce film avec ma mère, qui aime la musique de Piaf!
La môme est un film qui raconte l'histoire de la chanteuse Édith Piaf, de son enfance à sa mort.
Née à Paris, Edith (Marion Cotillard - De rouille et d'os) a fait beaucoup pour conquérir le succès comme chanteuse dans son pays. Après de nombreuses années sur la route, elle a fini par être découverte par Louis Leplée (Gérard Depardieu), un chercheur de talent qui lui a donné le nom de «La môme Piaf» et lui a donné la chance de chanter. Sa voix a conquis Paris et rapidement Édith Piaf a commencé à être reconnu par toute l'Europe, même si le sucess n'a pas apporté son bonheur et ne semble pas remplir sa vie.
Ma note: 3/5
La môme est un grand film! Il vous donne une bonnne idée de la vie de la célèbre chanteuse Édith Piaf, afin de mieux connaître la personne derrière la voix!
Je dois dire que le meilleur de ce film est sans aucun doute le jeu de Marion Cotillard, qui est méconnaissable et dépeint Édith Piaf très bien! Bien que ce film n'est pas très bien mon genre, j'ai vraiment l'aimé! Il montre un côté très sombre, mais réel de Piaf avec sa dépendance à l'alcool et la drogue, mais en même temps il montre ce qu'elle a traversé pour devenir une chanteuse de succès! Je le recommande!