Friday Favourites
Friday Favourites #34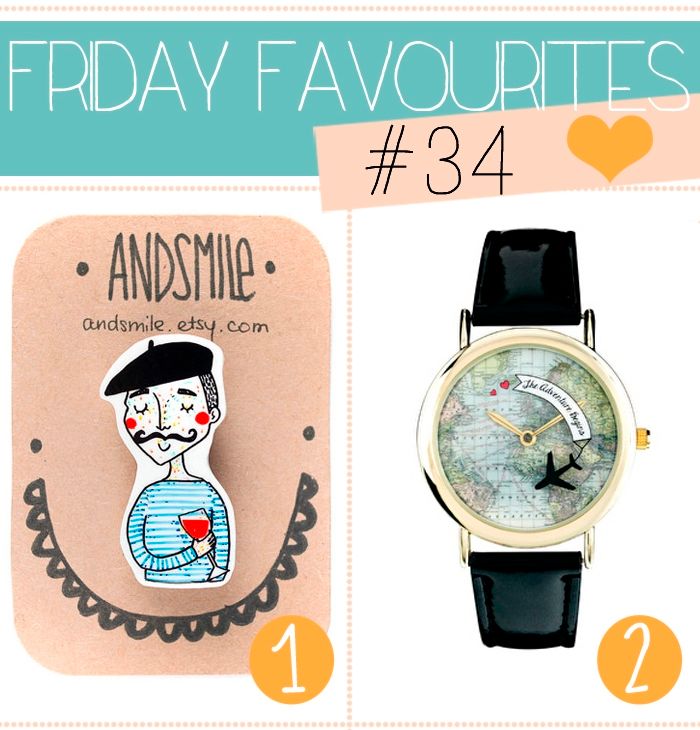 ♥
I love quirky brooches, of course you already know that. But this one is so special the moment I saw it I fell in love with it! Not only the artist who did this illustration is very talented but also gives a lot of attention to details! This is so pretty!
Eu adoro pregadeiras engraçadas, é claro que já sabiam isso. Mas esta é tão especial que no momento em que a vi apaixonei-me! Não só o artista que fez esta ilustração é muito talentoso como também dá muita atenção aos detalhes! Tão linda!
♥
I am so freaking in love with this watch!! I remember when I saw the design for the first time I was already in love but then when I found out it actually moves, I almost had an heart attack! This is the most beautiful watch ever!!
Estou tão tão apaixonada por este relógio!! Lembro-me de que quando vi o design pela primeira vez já me tinha apaixonado, mas quando descobri que se move, quase que tinha um ataque cardíaco! Este deve ser o relógio mais bonito de sempre!!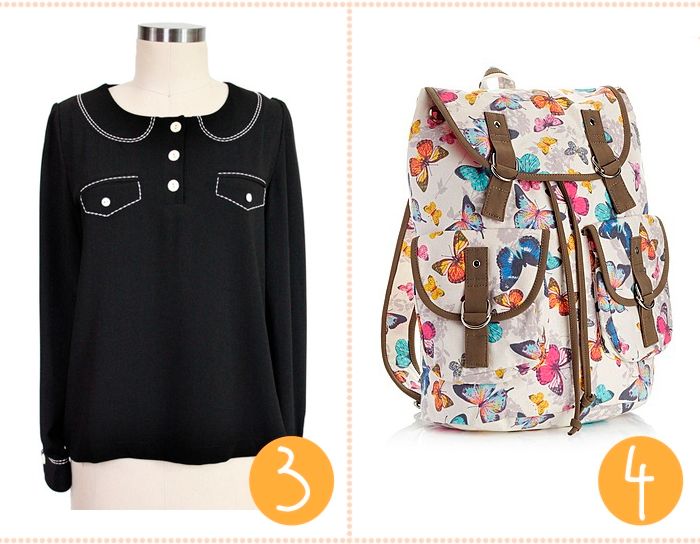 | 3.
Chalkboard Blouse
| 4.
Butterfly Rucksack
|
♥
I love chalkboard inspired things but actually never thought of a blouse that would remind me of chalkboard like this one does! Doesn't it just seem like the lines were drawn with chalk over the black fabric? So beautiful!
Eu adoro coisas inspiradas em lousas, mas na verdade nunca tinha pensado numa blusa que me lembrasse tanto uma lousa como esta! Não parece que as linhas foram desenhadas com giz sobre o tecido preto? Tão bonita!
♥
I have to tell you... years ago I was obsessed with Accessorize! I promised myself I wouldn't enter one of their stores again (well, I say I got there like twice a year, when before I would go once a week or more!). I love everything about Accessorize but unfortunately the prices are a bit high for me so I just try to stay away from their stores! I just recently found this backpack and reminded myself of why I love this brand so much! Look at those butterflies, so damn beautiful!
Tenho que vos dizer... há uns anos eu era obcecada com a Accessorize! Eu prometi a mim mesma que não voltava a entrar numa loja deles (bem, tenho que dizer que vou lá para aí umas duas vezes por ano, enquanto que antigamente ia uma vez por semana ou mais!). Adoro tudo da Accessorize, mas infelizmente os preços são um pouco altos para mim, por isso tento manter-me afastada das lojas deles! Recentemente descobri esta mochila e lembrei-me logo porque adorava tanto esta marca! Olhem para as borboletas, tão tão bonita!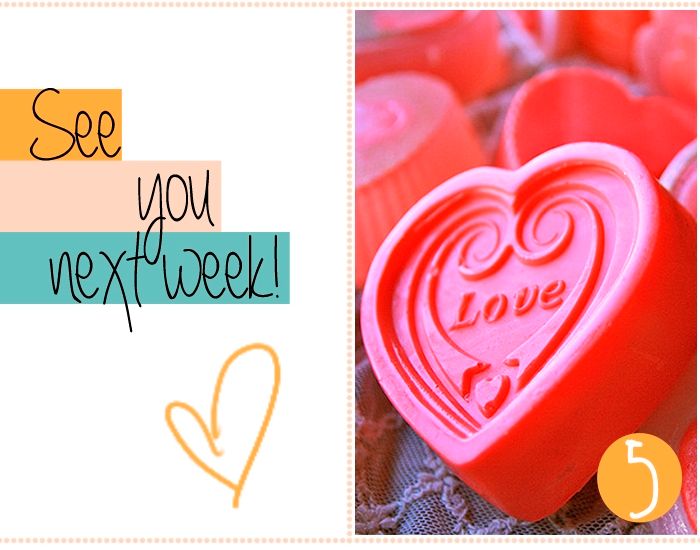 | 5.
Happy Valentines Soap
|
♥
I recently found out something I'd love to share with you! I'm talking about Wash Away My Cancer, an online store mainly consisting of beautiful soaps made by Ze (who grew up in Portugal!), a woman who was diagnosed with breast cancer who is raising funds to pay for her treatments! You can read more about her story here!
Recentemente descobri algo que adorava partilhar convosco! Estou a falar da Wash Away Mu Cancer, uma loja online que consiste principalmente em sabonetes lindíssimos feitos pela Ze (que cresceu em Portugal), uma mulher a quem foi diagnosticado cancro da mama e que está a angariar fundos para pagar os seus tratamentos! Podem ler mais sobre a história dela aqui!
| Français |
♥
J'adore broches différents, bien sûr, vous le savez déjà. Mais celui-ci est très spécial et au moment où je l'ai vu, je suis tombée d'amour! Pas seulement l'artiste qui a fait cette illustration est très talentueux, mais donne aussi beaucoup d'attention aux détails! C'est si joli!
♥ Je suis vraiment tombée d'amour avec cette montre! Je me souviens quand j'ai vu le design par la première fois, je l'aimais déjà, mais quand j'ai découvert qu'il se déplace en fait, j'ai presque eu une crise cardiaque! C'est la plus belle montre jamais!
♥
J'aime des choses inspirés en tableaux mais en fait j'ai jamais pensé à une blouse qui me rappellent d'un tableau comme celle-ci! Il me resemble que les lignes ont été tracées à la craie sur le tissu noir? Très jolie!
♥
Je dois vous dire ... il ya des années, j'étais obsédée par Accessorize! Je m'étais promis de ne pas entrer dans un de leurs magasins à nouveau (enfin, je suis là comme deux fois par an, alors qu'avant je voudrais aller une fois par semaine ou plus!). J'aime tout dans Accessorize mais, malheureusement, les prix sont un peu élevés pour moi, alors j'essaie juste de rester loin de leurs magasins! J'ai récemment trouvé ce sac à dos et il me rappelle pourquoi j'aime cette boutique! Regardez ces papillons, si tellement belle!
♥
J'ai récemment découvert quelque chose que j'aimerais partager avec vous! Je parle de Wash Away My Cancer, une boutique en ligne principalement constituée de belles savons faits par Ze (qui a grandi au Portugal!), une femme qui a été diagnostiqué avec un cancer du sein qui collecte de fonds pour payer ses traitements! Vous pouvez en savoir plus sur son histoire ici!