Friday Favourites
Friday Favourites #35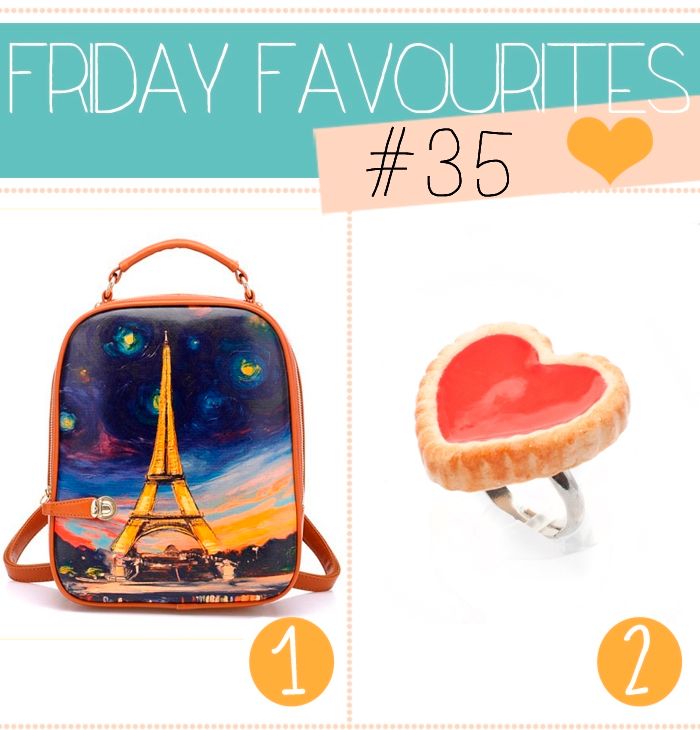 ♥
A backpack + a painting + the Eiffel Tower = perfection! Seriously, could there be a prettier backpack than this one? I absolutely love it, look at all the details!
Uma mochila + uma pintura + a Torre Eiffel = perfeição! A sério, pode haver mochila mais bonita que esta? Adoro-a, olhem para todos os detalhes!
♥
If you see any food/desserts/baking inspired jewelry, you already know I'll love it and this one is no exception! I was in doubt whether to feature the ring or necklace version but, well, who cares? It's a strawberry jam tart! It's lovely in all forms!
Se encontrarem bijuteria inspirada em comida/sobremesas, já se sabem que eu vou adorar e esta não é excepção! Estive na dúvida sobre se deveria partilhar a versão anel ou colar, mas, quem é que se importa? É uma tarte de geleia de morango! É adorável de qualquer forma!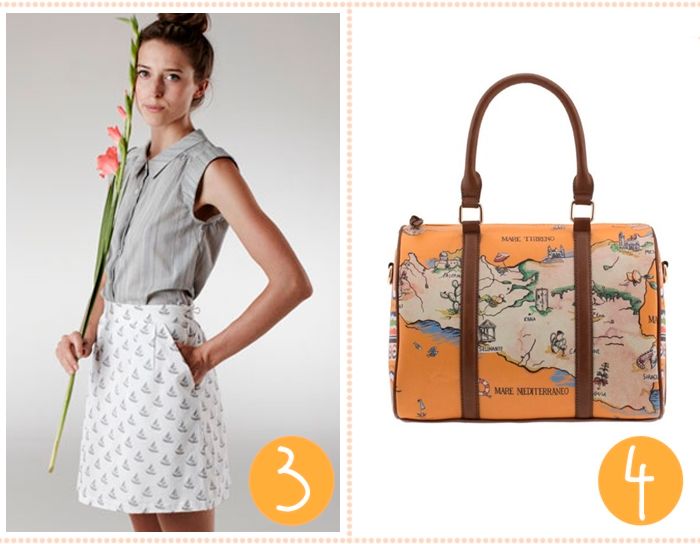 | 3.
Johanna Boat Skirt
| 4.
Sicilia Handbag
|
♥
I have no idea why I haven't featured this skirt before because it has been on my favourites for ages! I absolutely love it, not only it has a good length and a gorgeous boat print but it also... has pockets!! I love pockets in skirts and dresses so of course when I saw this I fell in love!
Não faço ideia de por que razão é que ainda não tinha partilhado esta saia antes porque já está nos meus favoritos há imenso tempo! Adoro-a, não só tem um bom comprimento e um padrão com barcos fantástico, mas também... tem bolsos!! Eu adoro bolsos em saias e vestidos, por isso é claro que quando a vi me apaixonei!
♥
Map bags, map bags... what shall I do about you? haha I just can't help it, friends, map bags are always a must have feature on my blog!
Isn't this one just lovely? I'm quite tempted to buy it (even though I wonder what I'd wear it with! haha), it's so beautiful!
Malas com mapas, malas com mapas... que hei-de fazer com vocês? Desculpem, mas não dá mesmo, malas com mapas é uma partilhar obrigatória no meu blog!
Esta não é adorável? Estou muito tentada a comprá-la (se bem que me questiono sobre com o que é que a ia usar! haha), é tão linda!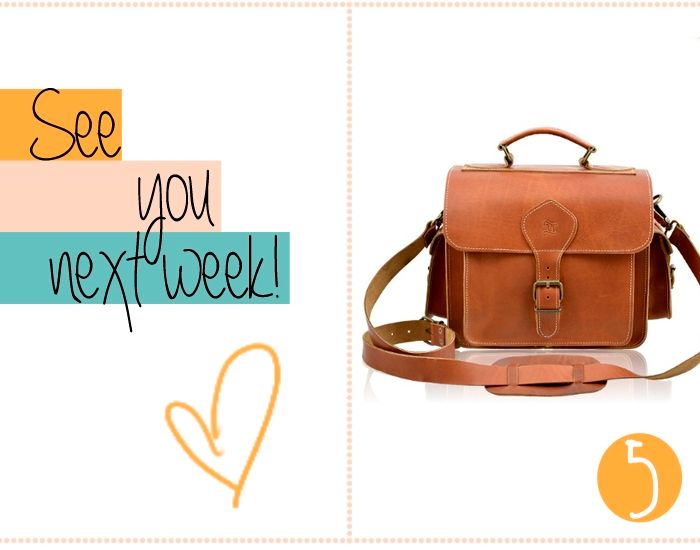 | 5.
Leather Camera Bag
|
♥
I've been searching for the perfect camera bag ever since I got my DSLR and so far I came to the conclusion I really want a good leather resistant bag. This one is really beautiful, I love its shape!
Tenho andado à procura da mala para máquina perfeita desde que comprei a minha DSLR e até agora cheguei à conclusão de que quero uma boa mala resistente em pele. Esta é tão bonita, adoro o formato!
| Français |
♥
Un sac à dos + une peinture + la Tour Eiffel = perfection! Vraiment, pourrait-il y avoir un sac à dos plus joli que celui-ci? Je l'adore, regarde tous les détails!
♥
Si vous voyez des bijoux inspirés dans aliments/desserts/pâtisserie, vous savez déjà que je vais les aimer et celui-ci n'est pas l'exception! J'étais en doute si devrais partager la version bague ou collier, mais bon, ce n'importe pas! C'est une confiture tarte aux fraises! C'est beau sous toutes ses formes!
♥
Je n'ai aucune idée pourquoi je n'ai pas partagé cette jupe avant, car il a été sur ma liste depuis longtemps! Je l'adore, pas seulement il a une bonne longueur et un print de bateaux magnifique, mais il a aussi ... des poches! J'adore poches dans des jupes et des robes, donc, bien sûr, quand j'ai vu cela, je suis tombée en amour!
♥ Sacs avec des cartes, sacs avec des cartes
... que dois-je faire avec vous? haha pardonne moi, mais c'est impossible, des sacs avec cartes dont être toujours partagés sur mon blog!
Je suis assez tentée de l'acheter (même si je me demande avec ce que je le porterais! haha), c'est tellement beau!
♥
J'ai cherché le sac photo parfaite depuis que j'ai obtenu mon DSLR et jusqu'ici je suis venue à la conclusion que je veux vraiment un bon sac résistant en cuir. Celui-ci est vraiment belle, j'adore sa forme!