Fashion
Half of my Heart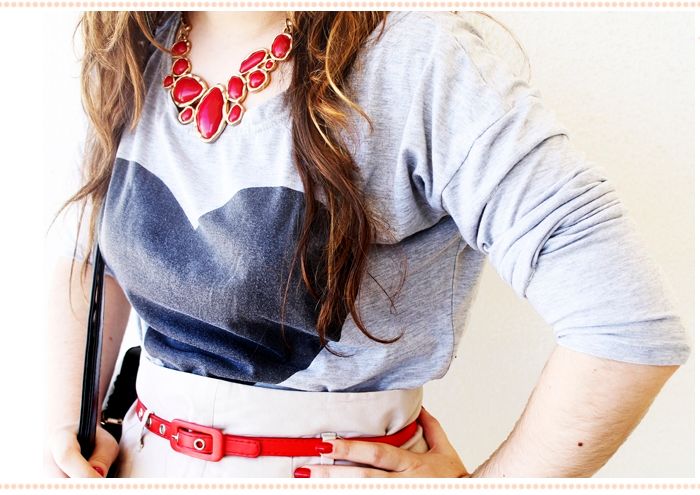 Shirt

Camisola

: c/o Choies
(available here disponível aqui)
| Skirt

Saia

: Zara | Bag

Mala

: c/o Romwe
(available here disponível aqui)
| Necklace

Colar

: Bijulândia | Shoes

Sapatos

: Via Uno
I don't know what's wrong with me but I've been wearing red a lot lately! It's almost like I can't pull off a decent outfit if it doesn't have a pop of red in it! This outfit is no exception!
At the beggining I only wanted to wear my beloved heart shirt and, adding this and that, I ended up with another outfit in red tones! Any tips on how to stop my obsession with red? haha
Não sei o que se passa comigo, mas tenho usado imenso vermelho ultimamente! É quase como se não conseguisse usar um outfit decente se não tiver um pouquinho de vermelho! Este outfit não é excepção!
No início só queria usar a minha querida camisola com um coração e, adicionando isto e aquilo, acabei com outro outfit em tons vermelhos! Alguma dica em como parar a minha obsessão com vermelho? haha
♥
| Français |
Chemise: c/o Choies
(disponible ici)
| Jupe: Zara | Sac: c/o Romwe
(disponible ici)
| Collier: x | Chaussures: Via Uno
Je ne sais pas ce qui m'arrive, mais je porte rouge beaucoup récemment! C'est presque comme si je ne peux pas faire une tenue décente si elle ne dispose pas d'un peu de rouge! Cette tenue n'est pas l'exception!
Au commence je voulais seulement porter mon t-shirt de coeur et, en ajoutant ceci et cela, je me suis retrouvée avec une autre tenue dans les tons rouges! Des conseils sur la façon d'arrêter mon obsession avec le rouge? haha