Fashion
Hey! Teachers!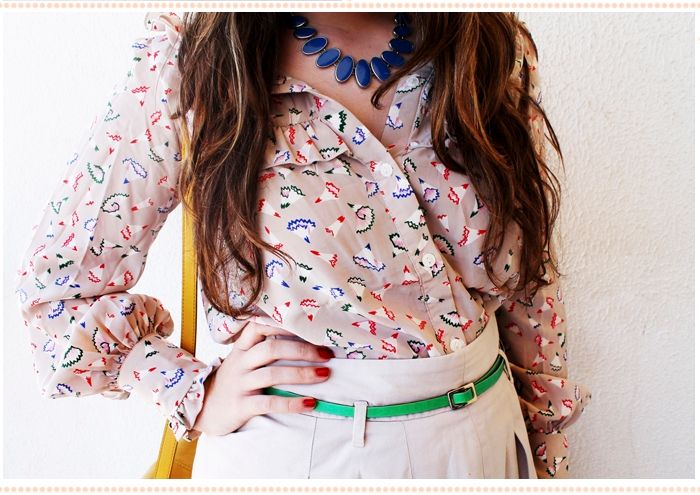 Blouse

Blusa

: c/o Oasap | Skirt

Saia

: Zara | Belt

Cinto

: Shana | Necklace

Colar

: C&A | Bag

Mala

: Zara | Earrings

Brincos

: Parfois
Although I don't wear this blouse very often as it is a bold staple, I absolutely love it because of its pencil sharpenings print! Being geeky as I am, it is definitely one of my favourite blouses! It also reminds me of how long it has been since the last time I picked up a pencil to draw, which leaves me super ashamed because I really want to draw but right now I just lack inspiration! Any suggestions on who or what I should draw?
Apesar de não usar esta blusa muito frequentemente por ser uma peça mais arrojada, adoro-a por causa do padrão de aparas de lápis! Sendo estranha como sou, é sem dúvida uma das minhas blusas preferidas! Também me recorda de como já passou imenso tempo desde a última vez que peguei num lápis para desenhar, o que me deixar super envergonhada porque eu quero mesmo desenhar, mas falta-me a inspiração! Alguma sugestão sobre quem ou o que devo desenhar?
♥

| Français |
Blouse: c / o Oasap | Jupe: Zara | Ceinture: Shana | Collier: C & A | Sac: Zara | Boucles d'oreilles: Parfois
Même si je ne porte pas cette blouse très souvent car il est un vêtement très différent, je l'adore en raison des rasages de crayon imprimés! En étant le geek que je suis, il est certainement l'un de mes blouses préférés! Il me rappelle aussi combien de temps il a été depuis la dernière fois que j'ai pris un crayon pour dessiner, ce qui me laisse honteuse parce que je veux vraiment dessiner, mais en ce moment je manque l'inspiration! Des suggestions sur que ou qui je dois dessiner?