Livros
What I Read: January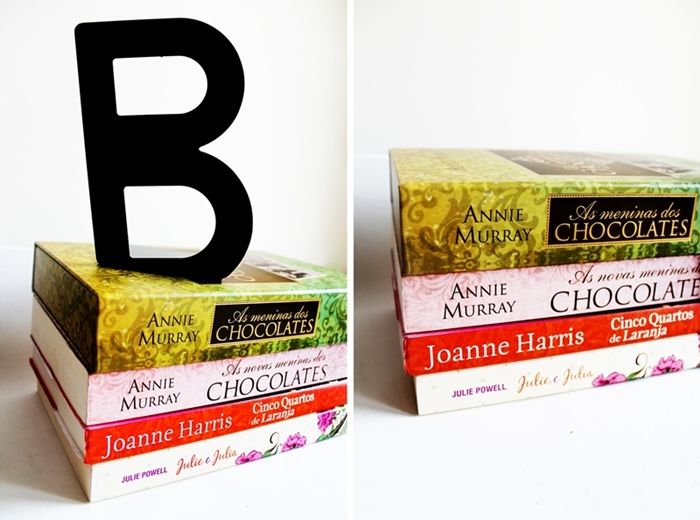 One of my resolutions for 2013 was to read more.
Let me explain: I used to be a bookworm and in my early to mid teens I would read from one book a day to one book every two days. I passed from loving to read to pretty much not reading at all. Sometimes I wonder: how did I get to this point? How did I end up reading only text and course books?
I decided that I needed to find time to read no matter what and established a very humble goal (but a good starting point): reading a book a month (or a total of 12 books this year).

It ain't that much but it sounded much better than nothing reading at all.
In January, I had my final exams so I was only able to read from the middle of the month onwards but I decided to start reading some of my sister's books (I'm saving my good old Game of Thrones for a bit later!). In January I read a total of four books:
Uma das minhas resoluções para 2013 era ler mais.
Deixem-me explicar: eu costumava ler imenso e do início ao meio da adolescência eu costumava ler de um livro por dia a um livro a cada dois dias. Passei de adorar ler para basicamente não ler de todo. Às vezes pergunto-me: como é que cheguei a este ponto? Como é que acabei por só ler manuais e livros de cadeiras?
Decidi que precisava de encontrar tempo para ler e estabeleci um objectivo bem humilde (mas um bom ponto de partida): ler um livro por mês (ou um total de 12 livros este ano).

Não é muito mas pareceu-me melhor do que não ler de todo.
Em Janeiro, tive os meus exames finais por isso só consegui ler a partir do meio do mês para a frente mas decidi começar a ler alguns livros da minha irmã (vou guardar os meus bons Guerra dos Tronos para mais tarde!). Em Janeiro li um total de quatro livros:
♥
Chocolate Girls

As meninas dos chocolates

- Annie Murray
♥
Edie, Ruby and Janet are friends and dedicate themselves to make chocolates in the famous Cadbury factory, in England. Their lives could be dreamy, if it wasn't for the family tribulations and the outbreak of the Second World War.
Three women whose lives are marked by friendship, war and the love for a child.
Edie, Ruby e Janet são amigas e dedicam-se a fazer chocolates na famosa fábrica Cadbury, em Inglaterra. As suas vidas poderiam ser de sonho, não fossem as atribulações familiares e a eclosão da Segunda Guerra Mundial.
Três mulheres cujas vidas são marcadas pela amizade, a guerra e o amor por uma criança.
♥
The Bells of Bournville Green

As novas meninas dos chocolates

- Annie Murray
♥
In their youth, Edie, Ruby and Janet shared dreams while dedicating themselves to the delicious task of making chocolates at the famous Cadbury factory, in England, Two decades after, the world is radically different and the lives of the friends as well. Now, the next generation is growing and facing their own challenges...
Na sua juventude, Edie, Ruby e Janet partilhavam sonhos enquanto se dedicavam à deliciosa tarefa de fazer chocolates na famosa fábrica Cadbury, em Inglaterra. Duas décadas depois, o mundo está radicalmente diferente e as vidas das amigas também. Agora, a geração seguinte está a crescer e a enfrentar os seus próprios desafios...
♥
Five Quarters of the Orange

Cinco Quartos de Laranja

- Joanne Harris
♥
Framboise returns to the little village where she grew up, in the french province, and opens there a restaurante that quickly becomes famous, thanks to the recipes of an old notebook that used to belong to her mother. Framboise remembers the favours and feelings of her childhood, in a France marked by pain and by the poverty of the war.
Framboise regressa à pequena vila onde nasceu, na província francesa, e abre aí um restaurante que rapidamente se torna famoso, graças às receitas de um velho caderno que pertencera à sua mãe. Framboise recorda os sabores e os sentimentos da sua infância, numa França marcada pela dor e pela penúria da guerra.
♥
Julie & Julia

Julie e Julia

- Julie Powell
♥
Almost in her thirties, trapped in an uninteresting job as a secretary without and ending and in a tiny apartment, Julie Powell decides to get her life back, lost in a boring routine, through cooking. During a year, she experiments each one of the 524 recipes of the legendary Julia Child.
À beira dos trinta, encurralada num desinteressante trabalho como secretária sem fim à vista e num minúsculo apartamento, Julie Powell resolve recuperar a sua vida, perdida num quotidiano monótono, através da culinária. Ao longo de um ano, experimenta cada uma das 524 receitas da lendária Julia Child.