Favourite Outfits: March
In March I have seen so many beautiful outfits from all around the world it was impossible not to share them with you! Ready?
Em Março vi tantos outfits lindíssimos de um pouco por todo o mundo que era impossível não os partilhar convosco! Rreparados?
1. Flávia is one of my favourite fashion bloggers! She has such an amazing ecletic style, it's impossible not to love her! This rocker outfit definitely caught my eye this month, I love how she made it look so cool and chic at the same time! Oh and I am totally obsessed with that jacket!
A Flávia é uma das minhas fashion bloggers preferidas! Ela tem um estilo eclético fantástico, é impossível não a adorar! Este outfit de rocker definitivamente chamou a minha atenção este mês, adoro como ela o fez parecer tão cool e chique ao mesmo tempo! Oh e estou completamente obcecada com o casaco dela!
2. I am truly passionate about pastels so of course I had to fall in love with this gorgeous outfit! I love how the lace adds an extra special touch!
Eu sou verdadeiramente apaixonada por tons pastel por isso é claro que tinha que me apaixonar por este outfit fantástico! Adoro como a renda adiciona um toque extra especial!
3. I already featured one of Ashlyn's outfits the previous month but I couldn't help sharing her style again when I saw this outfit! I am so much loving her mix of green with orange!
Eu já tinha partilhado um dos outfits da Ashlyn no mês passado mas não podia deixar de partilhar o estilo dela novamente quando vi este outfit! Adoro como ela misturou verde com laranja!
4. I love when someone's able to pull off an outfit that looks effortless and yet super pretty and this is the case! I wish I could think of something this beautiful to wear when I am out in a rush!
5. Kelli is not only one incredible artist as she also has a lovely style I'm very found of. This outfit is no exception, I am so much loving her perfect heart sweater!
A Kelli não só é uma excelente artista como também tem um estilo que eu adoro. Este outfit não é excepção, estou apaixonada pela camisola com corações perfeita que ela tem!
6. I have been following Zuza's blog for years and love her style! She's from Poland so you can always count on finding on her blog the best outfits for cold weather! I am personally loving how feminine and romantic this one is!
Eu já sigo o blog da Zuza há uns anos e adoro o estilo dela! Ela é da Polónia por isso podem sempre contar em encontrar no blog dela os melhores outfits para um tempo frio! Eu pessoalmente adoro o quão feminino e romântico este é!
7. Shannon's outfit is probably something that wouldn't fit my personal style but I still had to share it! I love her mix of bright, bold colours and the small details like combining stripes with polka dots!
O outfit da Shannon é algo que provavelmente não iria encaixar no meu estilo pessoal mas ainda assim tinha que o partilhar! Adoro como ela misturou cores fortes e brilhantes e os detalhes mais pequenos como combinar riscas com bolinhas!
8. This outf from Steffy is probably too much look-a-like with the one I have shared from her the previous month but I love heart sweaters so much I guess I couldn't help it! It's perfect for Spring!
Este outfit da Steffy é provavelmente muito parecido com o que eu partilhei dela no mês passado mas adoro camisolas com corações por isso tinha de o partilhar! É perfeito para a Primavera!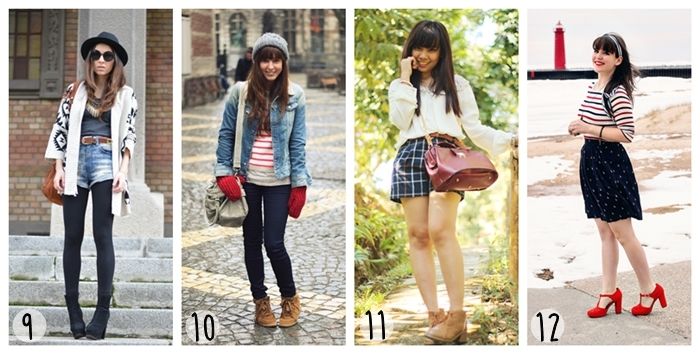 9. Again, a perfect example of how some people are able to create amazing outfits and make them look like they were out in 10 seconds... love this, the cardigan is perfect! (Can you spot a similar one on my favourites from February?)
Mais uma vez, uma exemplo perfeito de pessoas que conseguem criar outfits fantásticos e parecer que sairam de casa em 10 segundos... adoro, o casaco é perfeito! (Conseguem ver um semelhante nos meus favoritos de Fevereiro?)
10. I find this casual outfit so cute! It's the ideal to go out for shopping or a cup of coffee with friends!
Acho este outfit casual tão giro! É o ideal para ir às compras ou ir beber um café com amigos!
11. You can't spot shorts on my wardrobe but, still, I love watching other people wearing them... this outfit Kathy wore is so adorable! Love the print on her shorts!
Não conseguirão encontrar calções no meu guarda-roupa mas, ainda assim, adoro ver outras pessoas a usá-los... este outfit que a Kathy usou é tão querido! Adoro o padrão dos calções dela!
12. Again, someone who is on my favourites two months in a row! Tieka has such adorable outfits like this one, I love her style! Her mix of white, blue and red (one of my favourite colour combinations!) is perfect!
Mais uma vez, alguém que está nos meus favoritos dois meses seguidos! A Tieka tem outfits adoráveis como este, adoro o estilo dela! A mistura que ela fez de branco, azul e vermelho (uma das minhas combinações de cores preferidas!) é perfeita!
♥
Speaking of favourite outfits, don't forget to vote below on your favourite outfit from March, I can't wait to know your opinion!
Falando em outfits preferidos, não se esqueçam de votar abaixo no vosso outfit preferido de Março, mal posso esperar para saber a vossa opinião!